Boredom and loneliness making you feel sick? We get it. We're hopeful life will return to normal soon. In the meanwhile here are a few of the top things you can still do right now (confirmed opened) in San Diego as of March 9th 2021 for those brave enough to venture the outdoors despite the pandemic.
In short, the Regional Stay at Home Order is lifted and access is being opened up rapidly to various venues. Regardless, it's important to note there is a high risk of exposure to COVID-19 that still exists in ANY public place where people are present.
No one can guarantee you will not be exposed (despite the safety measures in place), so please make sure to evaluate your own risk before venturing to any of the public places mentioned below!
Here are a few of the top things you can still do in San Diego (despite the pandemic):
1. Balboa Park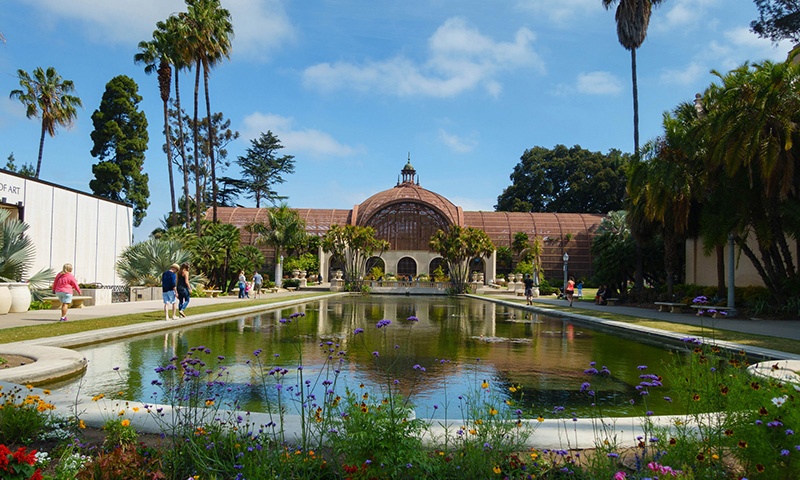 One of the most popular urban parks in the United States, this bucolic paradise is packed with attractions, including the world-famous San Diego Zoo. Experience its beautiful Spanish Colonial Revival architecture and enjoy the public organ concerts on Sundays with free access to gardens. Locals can enjoy free admission to select gardens and museums on Tuesdays (in rotation every week).
Balboa Park is open for passive purposes only (walking, jogging, or hiking) or for members from the same household to congregate. Park parking lots are open to full capacity as well.
All park safety protocols can be found
right here
.
2. The San Diego Zoo & Safari Park
The San Diego Zoo and the San Diego Zoo Safari Park are open! You can once again experience wildlife with your family, stroll the diverse habitats and take part in fun activities that bring you closer to the natural world.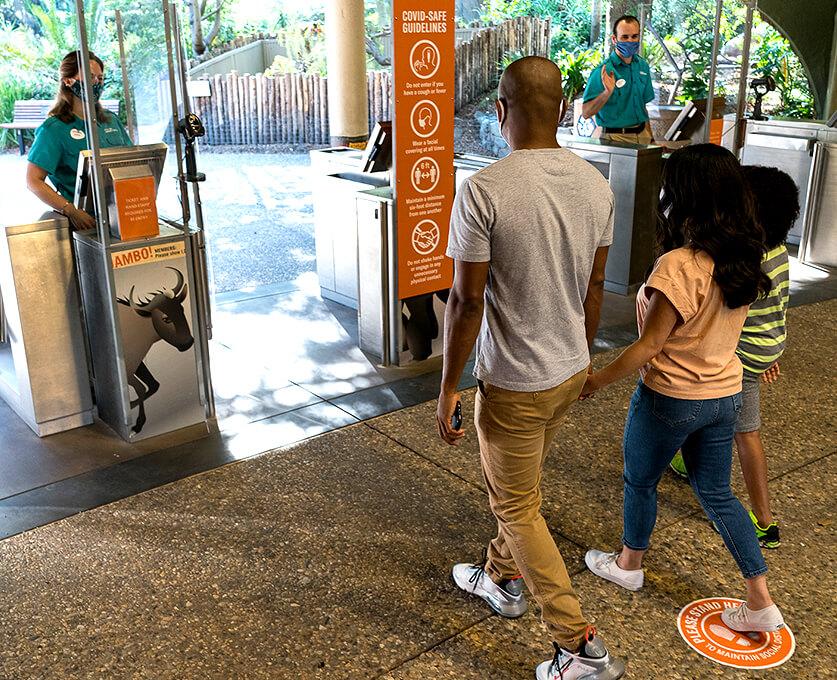 All visitors 3 and up will require a ticket due to high demand and reservations are a MUST (visitors without a reservation are subject to temporary reduced daily attendance limits and reservation availability)!
Click to register for the
Zoo
or
Safari Park
and follow the COVID-19 protocols in place (which includes orange and green safe practice instructions on the floor throughout the area and pre-health screening prior to entry).
3. Mission Trails Regional Park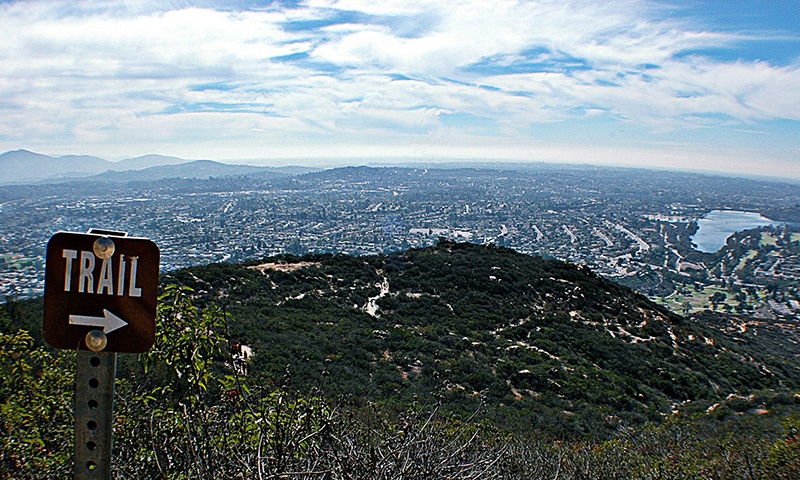 photo credit: https://www.flickr.com/photos/97031851@N02
Just a few minutes from downtown San Diego, Mission Trails Regional park has hiking trails, campgrounds, fishing, picnic facilities, and lots of wide open spaces. Run, bike or walk and enjoy the beautiful and peaceful scenery. Enjoy responsibly by following all COVID-19 safety protocols.
4. Old TowN
photo credit: https://www.flickr.com/photos/kenlund/
One of the most visited San Diego attractions. Explore the popular historic site that recreates life in the Mexican and early American periods of 1821 to 1872. Wander around and experience over 25 restaurants with authentic and cultural cuisine, shopping and nightly entertainment.
The museum, visitor center, and high public-use indoor facilities are still closed and the special events and tours are cancelled, however, most everything else in Old Town has re-opened!
Here's what to expect:
State Parks is reopening campground sites for existing reservation holders and phasing in the reopening of select campsites for new reservations as a safety measure
Day use outdoor areas of park units currently open to the public remain open. On Fridays and Saturdays, interpretive staff will be stationed on the porch of the Robinson-Rose Visitor Center, in the Seeley Yard at the Blacksmith Shop and Donkey Corral, and La Casa de Estudillo. On Sundays, interpretive staff will be stationed on the porch of the Robinson-Rose Visitor Center and in the Seeley Yard at the Blacksmith Shop and Donkey Corral (La Casa de Estudillo will not be open).
Visitors can walk around the park and view the exteriors of additional exhibit and museum areas. QR codes linking to videos and other interpretive material are posted around the park.
Most retail stores and restaurants. Many are open with changed hours or days.
A few outdoor areas and parks are currently staffed.
The Cosmopolitan Hotel is open for limited days.
Full parking is now available to the public.
Selected park restrooms are open from 10 a.m. to 4 p.m.
5. Torrey Pines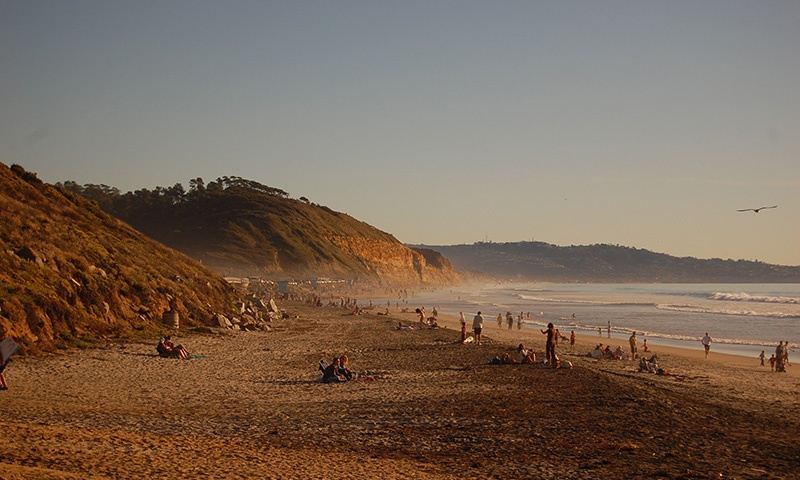 8 miles of trails with gorgeous ocean views will keep you occupied for hours is currently open as most parks and areas are. Torrey Pines State Beach is great for swimming, surfing and fishing. Red-hued bluffs and wet sand make strolling on the beach popular at low tide. Enjoy picnic area and parking lot are near the entrance on North Torrey Pines Road. With an array of species here, the bird watching can be tons of fun!
The following are opened at Torrey Pines with a few safety changes:
Most hiking trails, the park road, and the Extension trails are open. Guy Fleming and Parry Grove trails are designated one-way loops.
The beach is open for passive and active recreation.
Face coverings are required when unable to maintain 6-foot physical distance
Parking and restrooms are available at South Beach Lot, North Beach Lot, and the upper reserve. Please note: only chemical toilets are available at the upper reserve.
Day-use fees may be paid through the automated pay machines installed at the park or at the entrance station when staffed.
California Explorer Vehicle Day Use Annual Pass (Hangtag):
May be purchased in person at Torrey Pines State Natural Reserve South Beach Kiosk. Note: Passes will not be sold on rainy days at Torrey Pines.
May be purchased in person at Seaside (South Cardiff) Lot, Cardiff State Beach on weekends from noon to sunset.
May be purchased online and picked up at Torrey Pines State Natural Reserve 7 days a week (except rainy days) or at Seaside Lot, Cardiff State Beach on weekends. Note: More details about quick pass pick up text ca1131 to 53242.
May be purchased online at the California State Parks Store for delivery to your home or office.
The Limited Use Golden Bear Pass expiration date has been extended to March 31, 2021. All other terms and conditions of the pass remain in effect.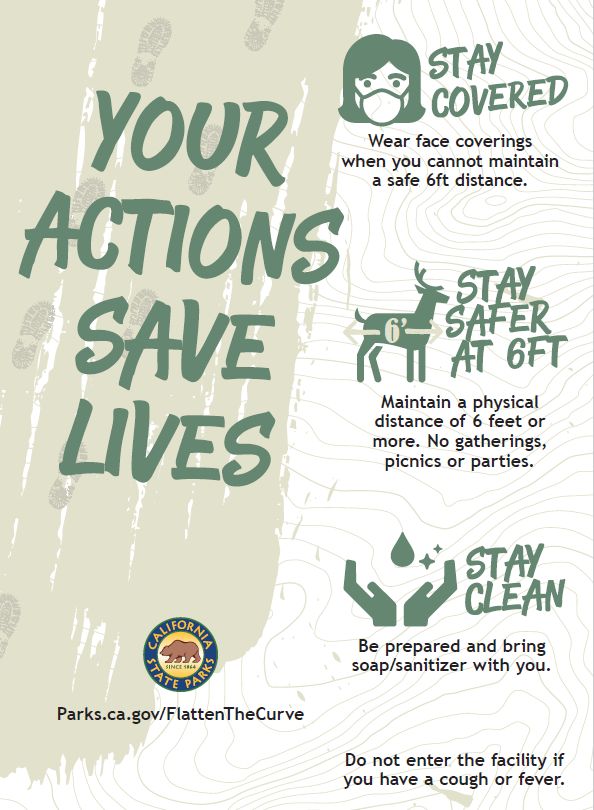 Closed at Torrey Pines:
Group activities and athletics are prohibited at this time
Park amenities such as drinking fountains are closed. Bring water with you.
The visitor center and docent store remain closed.
Docent led group hikes are suspended.
Razor Point Overlook is closed due to erosion.
Food and pets are never allowed.
Park amenities such as drinking fountains are closed. Bring water with you.
Group gatherings are not permitted.
The San Diego Coast District and Sector offices are currently closed.
6. San Diego Bay
Most public spaces around San Diego Bay are open including the following:
Parks, beaches, playgrounds, and piers:
Parks and beaches along the bayfront in Chula Vista, Coronado, Imperial Beach, National City and San Diego are open and activities such as walking, running, sports, working out, swimming, sitting, lying down and picnicking are allowed. These activities can only be conducted so long as physical distancing can be maintained with non-household individuals and groups.

Playgrounds are open to facilitate physically distanced personal health and wellness through outdoor exercise.

Piers on San Diego Bay are open – Shelter Island Pier (San Diego), B Street and Broadway Piers (Embarcadero, San Diego), Embarcadero Marina Park South Pier (San Diego), Cesar Chavez Park Pier (Barrio Logan, San Diego), Pepper Park Pier (National City), Bayside Park Pier (aka J Street Pier, Chula Vista), Imperial Beach Pier, and the Ferry Landing Pier (Coronado).

Public restrooms – all public restrooms on the bayfront are open.
Recreational boating and fishing:
Jet skiing, kayaking and paddle boarding are allowed (kayakers and paddle boarders may launch from beaches).

All boat launches on San Diego Bay are open – Chula Vista, Glorietta Bay, National City, and Shelter Island (launch parking lots are open).

Fishing is allowed from Port piers, parks, beaches, and shoreline areas where not otherwise prohibited per Port signage.
Parking lots are open and all other parking rules and regulations are still being enforced.
As per the latest orders, gatherings of up to three households are allowed outdoors. Non-household members must maintain a physical distance of six feet or more, and everyone over two years of age is required to wear a face mask or face covering. It's also important to continue washing your hands often and don't touch your face.
7. Botanic Garden
The Garden is Now OPEN with NEW Hours: 10am - 5:00pm Wed - Sun (closed Monday and Tuesday). Make a reservation
here
to visit.
San Diego Botanic Garden remains committed to safeguarding the community's health and continues to follow all County, State and Federal guidelines.
Special Covid-19 Safety Measures at the Garden:
Visitor capacity reduced and controlled at all times.

On-line ticketing for contactless entry.

Indoor buildings closed.

Enhanced cleaning of high touch surfaces and restrooms.

All visitors, staff and volunteers ages 2+ wearing face coverings.

Single directional pathways for maximum distancing.



8. Cowles Mountain
photo credit: https://www.flickr.com/photos/97031851@N02
Cowles Mountain is the highest point in the city of San Diego and is part of the Mission Trails Regional Park system. This spot can get really busy, but it's worth it. It's a great place for a hike–you'll definitely enjoy the breathtaking view at the summit!
9. Mission Beach Boardwalk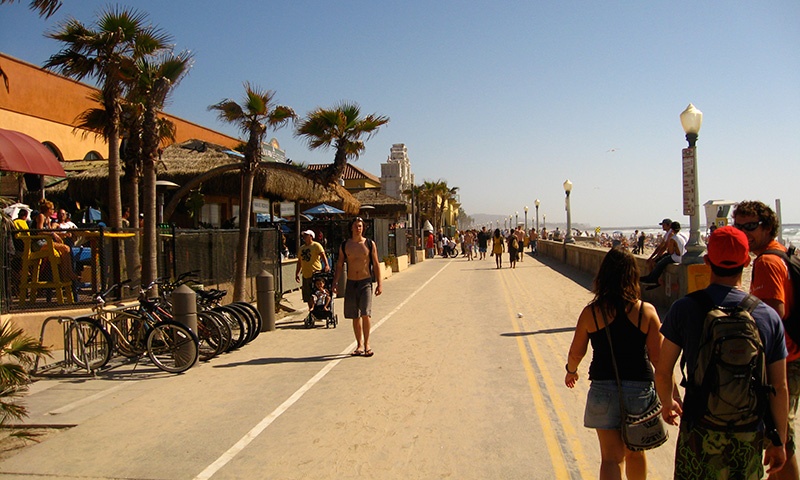 Biking, jogging and skating on San Diego's scenic waterfront path is popular with tourists and locales alike.
A lot of people are wondering if Mission Beach is open in San Diego, and the good news is it is!
Mission Beach, Pacific Beach and the Boardwalk is open in San Diego
Mission Beach is open for socially distant activities with some rules in place for a passive use and enjoyment of the beach. The sand and water are open for activities along with the Boardwalk as well. The city of San Diego Park and Recreation department has posted specific rules that they are advising be followed.
These rules also apply to Pacific Beach, the boardwalk, and surrounding beaches like Ocean Beach, La Jolla in San Diego.
10. Little Italy
San Diego's oldest continuous neighborhood business district has continued to be a vibrant ethnic business and residential community since the 1920s.
The Saturday Little Italy Mercato Farmers Market is OPEN from 8am - 2pm!
Here's what to expect:
Contactless payments and masks are required for all shoppers and there is an entrance and exit point for all blocks of the market.
Currently, many of the farmers and vendors are back at the market, but check
this website
for a complete list or if you are looking for someone in particular.
There is also a limited capacity and no indoor dining available (take out only at the moment).
11. USS Midway Museum
Located in downtown San Diego, the USS Midway (Museum) was America's longest-serving aircraft carrier of the 20th century. Today, the interactive museum is an unforgettable adventure for the entire family as guests walk in the footsteps of the 225,000 young men who served on Midway. Explore a floating city at sea, the amazing flight deck and its 29 restored aircraft, flight simulators, and are inspired in the Battle of Midway Theater (temporarily closed for safety), included with admission. Admission also includes a self-guided audio tour narrated by Midway sailors in English, Mandarin, Spanish, Japanese, French and German. Visiting Midway is a once-in-a-lifetime experience in San Diego, known around the world as "Navy Town, USA."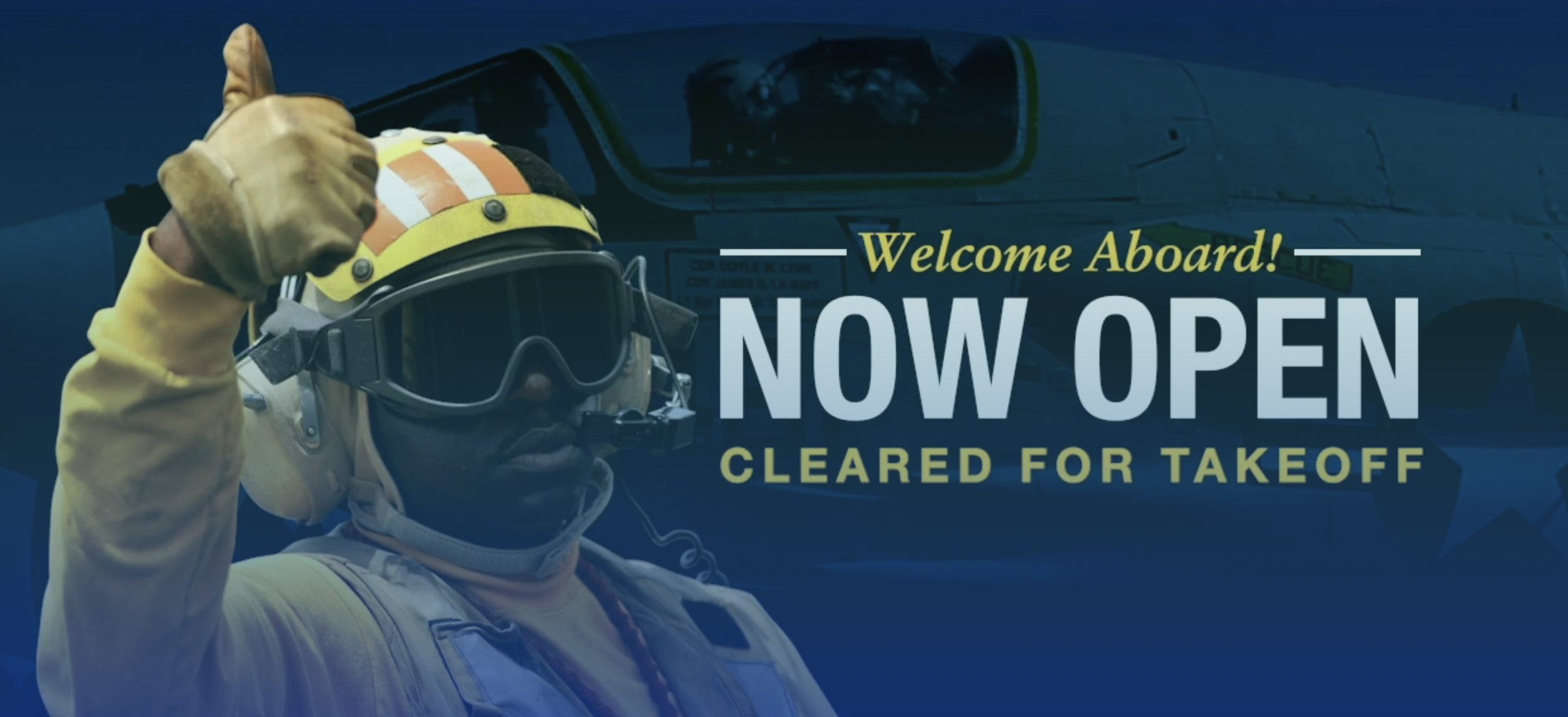 Open and clear for take off! here's what you need to know before visiting:
Online Timed Tickets - Purchase your date and time for your museum visit.
Face coverings - All guests and Midway Crew will be required to wear a face covering while on board (bring your own!)
Audio tour - Bring your own wired earbuds/headphones to enjoy our award-winning audio tour.
Payments - For safety and sanitation purposes, all purchases onboard will be credit card only.
Health & Wellness - All guests and Midway Crew will be required to undergo non-invasive temperature screenings prior to entry.'
Food & Beverage - Midway's Jetshop (Gift Shop) will offer limited snacks and beverage for sale. Please note, Midway is currently constructing, Cafe 41, an onboard dining experience that will be open in Spring 2021.
Ship Tour -
Hangar Deck and Flight Deck tour routes will showcase Midway's exclusive collection of more than 30 restored Navy aircraft and the incredible views of San Diego Bay.

Additional onboard experiences: Audio Tour, Souvenir Photo, Screaming Eagles VR Flight Experience, Jet Shop (Gift Shop.)

World Famous Midway Volunteers will bring the flight deck alive with talks on launching and landing aircraft and the adventures of life at sea.
*For your safety, our below deck tour routes, guided Island Tour, "Battle of Midway" theater, flight simulators, and climb aboard cockpits are temporarily closed.
12. Shell Beach Tide Pools
This small beach in La Jolla experiences extremely low tides which creates an interesting tidepool-like area with many marine creatures visible. It's definitely worth looking at the rock formations and sea creatures in this easy to access hot-spot. Fun for the whole family! Standard COVID-19 Safety procedures still apply, but the area is open which is the good news!
Did you find this information helpful? If you have anything you think should be added to this list feel free to share your comments below!