This halloween we thought we'd bring you a spooky special. While every town has it's creepy-looking houses that scares and makes us wonder what lurks inside, these estates are beyond eerie.
This is our list of the 13 spookiest estates of all time, enjoy!
1. Dracula's Castle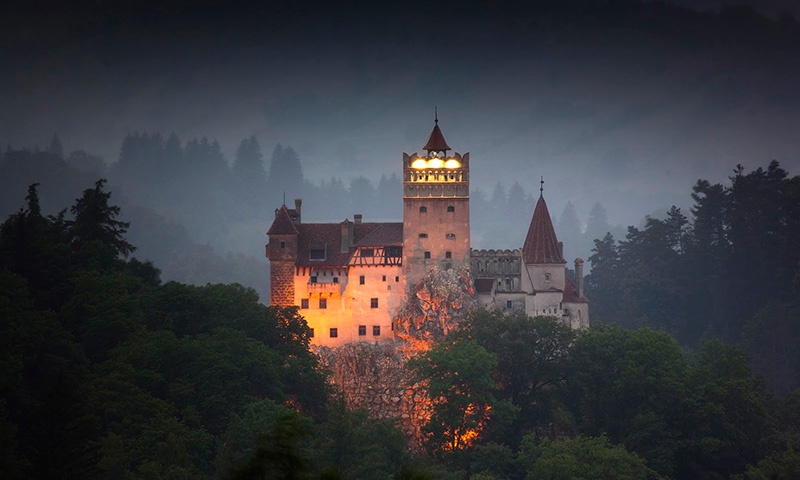 photo credit: bran-castle.com
Perched high on a cliff near mountains is Bran Castle, the inspiration behind countless tales of the infamous Count Dracula. The castle itself is filled with secret stairways, gothic arches and stone walls that will leave you breathless. The history and stories within the castle walls will give you chills.
In the villages near the castle, there is a belief in the existence of evil spirits called ghosts or "steregoi". Until half a century ago, it was believed that there existed certain living people who were leading a normal life during the day but at night, during their sleep, their souls left their bodies and haunted the village tormenting people in their sleep.
Because Bran Castle is the only castle in all of Transylvania that actually fits Bram Stoker's description of Dracula's Castle, it is known throughout the world as Dracula's Castle.
Location: Burcharest, Romania
2. Frankenstein Castle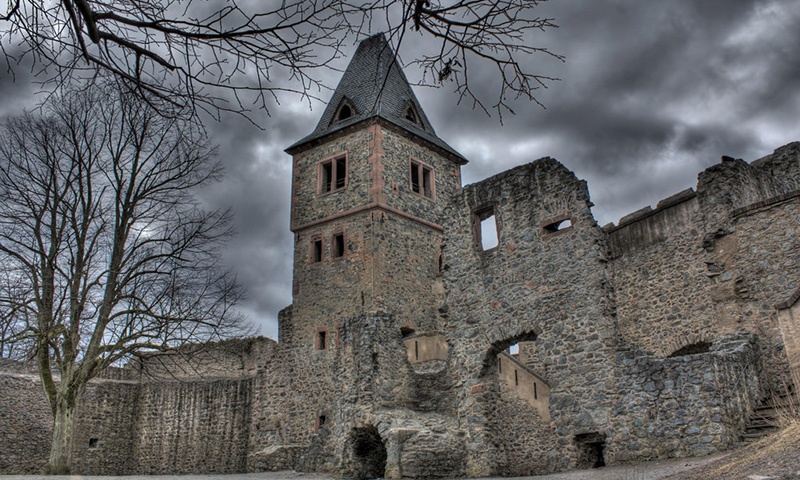 photo credit: staticflickr.com
This massive fortress is not for the faint-hearted. At 12,000 ft elevation, it is quite a trek to the castle. The woods on both sides of the road are almost as thick as the mystery surrounding it.
Frankenstein Castle certainly isn't the biggest or most interesting castle in Germany, but it's possible that Mary Shelley found the inspiration for her gothic novel, Frankenstein, from these ruins.
Whether this is true or not, the castle was certainly home to an eccentric scientist, Konrad Dippel - responsible for hair-raising experiments with animal and human body-parts.
Location: Muhltal, Germany
3. The Black Dahlia House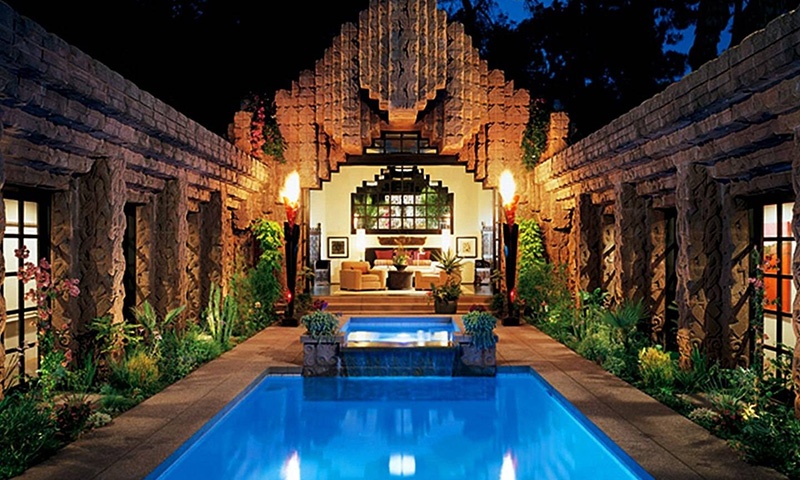 photo credit: clipartsgram.com
The Black Dahlia / Snowden House was designed by Lloyd Wright, the son of Frank Lloyd Wright. This 'Mayan Revival' styled home was the scene of the unsolved Black Dahlia murder. It has also been known as the "Jaws House" or the "Franklin House", built in 1926.
"The Black Dahlia" was a nickname given to Elizabeth Short an American woman who was the victim of a much-publicized murder in 1947. Elizabeth Short was found mutilated, her body sliced in half at the waist, on January 15, 1947, in Leimert Park, Los Angeles. Short's unsolved murder has been the source of widespread speculation, leading to many suspects, along with several books, television and film adaptations of the story. Short's murder is one of the oldest unsolved murder cases in Los Angeles history.
The house is decorated with artifacts that definitely came with evil spirits which may have inspired the unsolved murder. The only thing this home is lacking: a good night's sleep for the person that buys it.
The house, with seven bedrooms, four baths, and 5,600 square feet (520 m2), was listed on the market at $1,575,000 in 2001.
Location: Los Angeles, California
4. Thousand Islands Mansion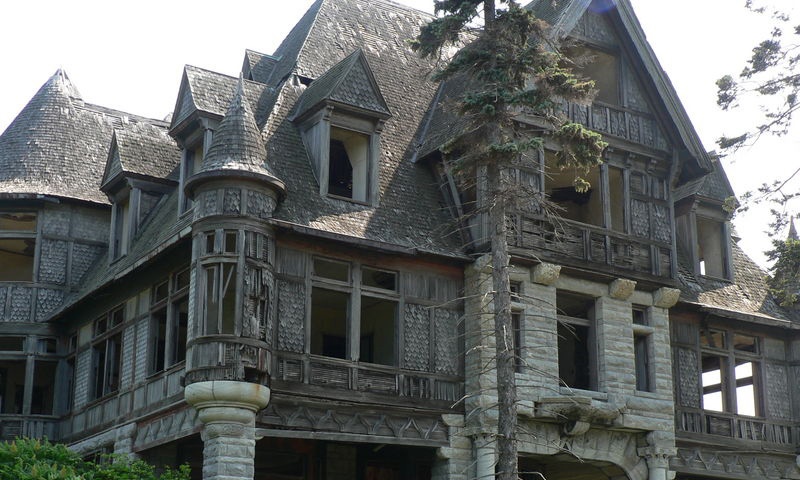 photo credit: thousandislandslife.com
Constructed in 1895 for the president of Remington Arms and Typewriter Company, this four-floor Thousand Islands Mansion has slowly become a gutted, haunted terrordome.
The insides are almost completely gutted aside from a few ghosts that are rumored to inhabit the home. That being said, the solid stone outer structure sits on an island of 6.9 acres and is surrounded by almost a thousand feet of waterfront. For a mere $495,000, the buyer willing to make this piece of history into a grand restoration project, can turn this house from a nightmare into a dream home.
The mansion now resembles something that crawled out of Stephen King's imagination. Uninhabited for over 60 years, save for the ghosts that no doubt prefer it that way, this evil abode was put up for sale and valued at $495,000.
Location: Carleton Island, New York
5. Borgvattnet Vicarage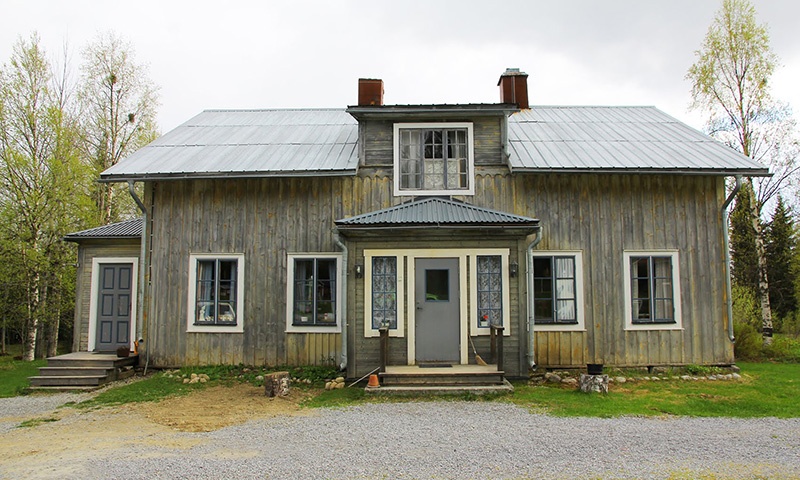 photo credit: i.ytimg.com
Built in 1876, the humble house for holy men started getting its first reported hauntings in 1927 when the resident vicar reported strange happenings including his laundry being torn from the line. Tales of supernatural events continued in the ensuing decades with almost every new vicar or their family or guests claiming to experience ghostly antics. Things have moved, screams have been heard, shadow people have been seen, and the old rocking chair keeps on rocking. The legends surrounding the origins of the haunting tell of abused maids and even of babies buried in the backyard although it is now also said that the old vicars themselves haunt the house.
In the early 1980's the renowned site caught the attentions of an outsider priest named Tore Forslund, the ghostpriest. This devoted enemy of the occult came to the town promising to rid it of the apparitions that the citizens had already begun capitalizing on. Unfortunately his exorcism's seem to have met with little to no success and he left the area within a year.
Today the vicarage is run as a small bed and breakfast for those curious enough to stay the night, with the option to rent the whole house. Anyone who makes it through the night will receive a diploma to mark their honor.
Location: Sweden
6. St. Augustine Lighthouse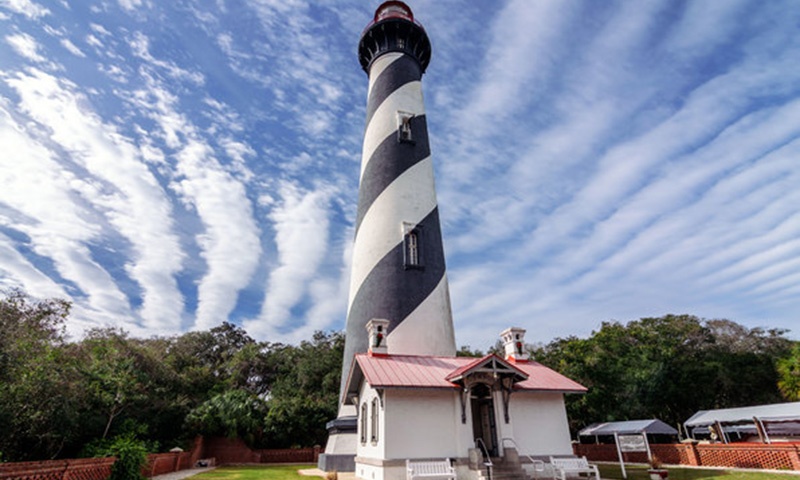 photo credit: totallystaugustine.com
The original St. Augustine Lighthouse was first built by Spanish settlers during the 1600s. In 1824, it became an official U.S. lighthouse in one of the oldest cities in North America: St. Augustine, Florida.
The present haunted lighthouse was built in 1874 and replaced the original light (formerly located 1/4 mile away), which was lost due to tidal erosion. The original lighthouse had one noted tragedy: lighthouse keeper, Mr. Andreu fell to his death while painting the tower.
The U.S. government built the current lighthouse by purchasing parcels of land from several owners. One of the land owners, Dr. Ballard, disputed his neighbors over the land deal and some tour guides have reported seeing his ghost. Possibly, Dr. Ballard or even Mr. Andreu still haunt the St. Augustine lighthouse, but there are other stories of tragedy associated with the haunted lighthouse.
Location: Florida, USA
7. Blairsden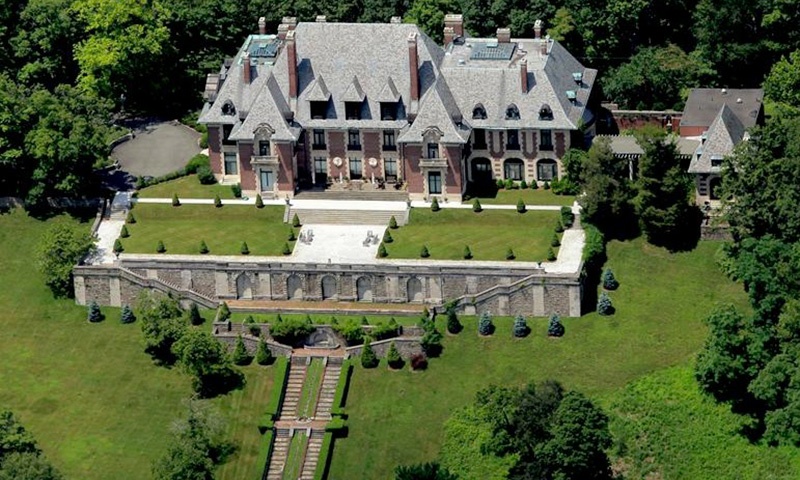 photo credit: priceypads.com
Built in 1893, Blairsden is a historic 62,000 square foot, 38-room haunted mansion
Sold to the Sisters of St. John the Baptist in 1950 and, according to legend, the Mother Superior and her 25 sisters switched sides shortly thereafter. That's right, this is the former home of A CONVENT OF DEVIL-WORSHIPPING NUNS.
So the legend goes: one night, newfound Satan fan Mother Superior went crazy and killed everyone in the house. She also drowned the children in the nearby lake. The property was put up for sale with an asking price of $4.9 million. What a steal.
Location: Peapack-Gladstone, New Jersey
8. Monte Cristo Homestead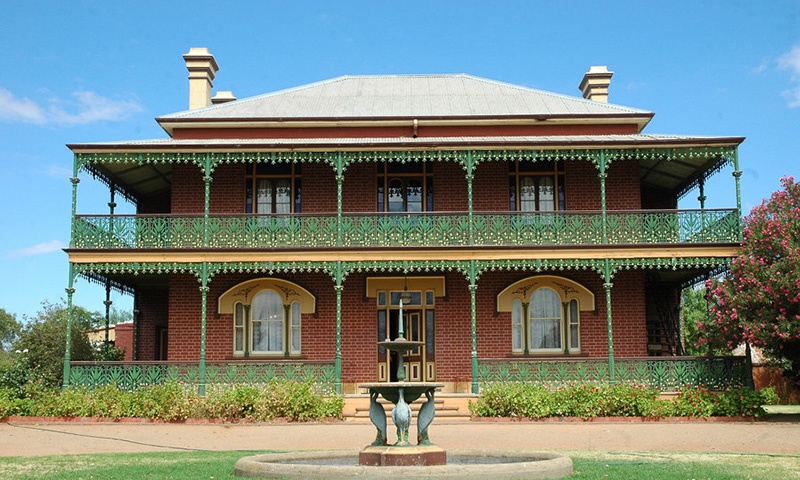 photo credit: img12.deviantart.net
Australia's most haunted homestead sits in Junee, New South Wales and has had a series of tragic events unfold throughout its history, earning it its much-deserved title.
The property was built in 1885, and in its time of existence it has had a pregnant caretaker pushed over a balcony, a baby thrown down the stairs and a stable boy tragically burn to death while he slept.
Olive Ryan and her late husband purchased the Victorian manor in 1963 and believes it is still haunted by the previous owners — Christopher and Elizabeth Crawley — who died between 1910 and 1933.
Location: New South Wales, Australia
9. Castle Of Good Hope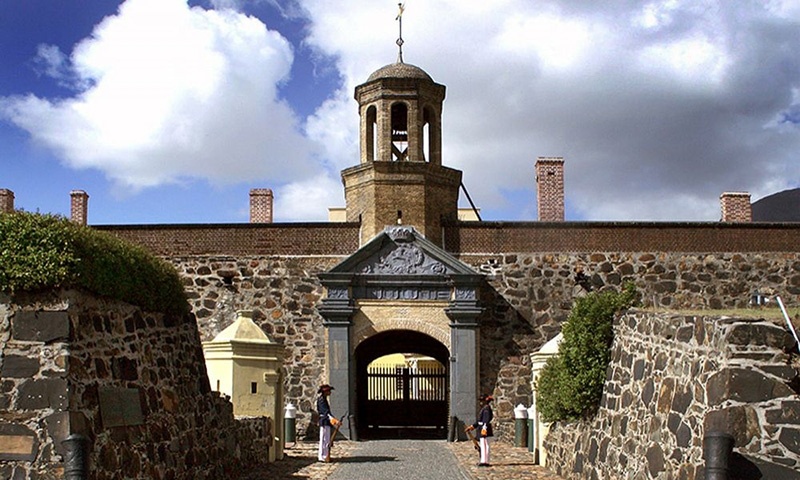 photo credit: s-media-cache-ak0.pinimg.com
The oldest colonial building in South Africa, the Castle of Good Hope is a pentagonal fortress built by Dutch colonialists in the 17th century. The well-known landmark is central to the history of Cape Town, having served as the seat of government and military operations for two centuries. A tour of the Castle's two museums and expansive grounds offer fascinating insight into Cape Town's military and cultural past.
It was originally used as a replenishment station for ships passing through the treacherous waters off the cape. Its moat fills with water at high tide.
It contains an infamous dungeon known as the dark hole or Danker Gat. This chamber was used to torture prisoners. It was not unusual for these prisoners to drown as they were chained to the dungeons walls—especially during winter floods.
The first ghost noted at the castle was seen in 1915. This tall figure—a gentleman-- was seen on the castle's battlements. The same figure was seen for two short weeks again in 1947. A ghostly black hound can sometimes be seen wandering around the castle. This dog has been known to pounce on visitors and then vanish completely out of sight.
Other activity in the castle includes lights going on and off in the dungeon area without cause. In the old guard room both male and female voices are heard arguing. One evening, when this activity was investigated a misty figure was spotted.
Location: Cape Town, South Africa
10. The Buxton Inn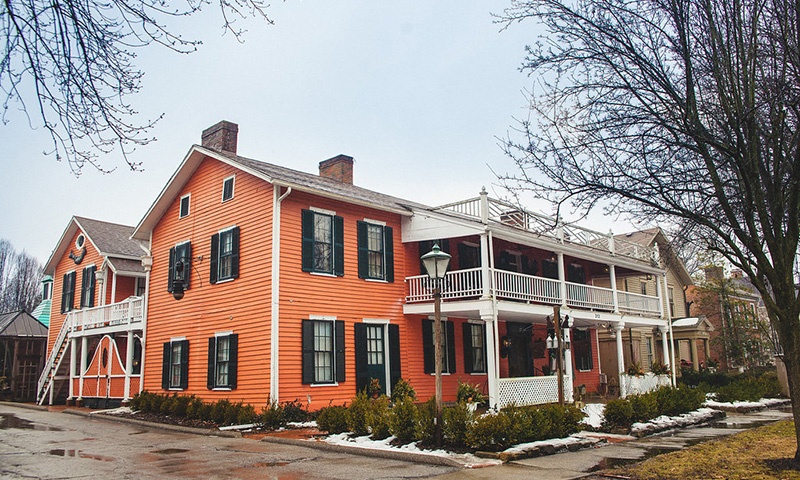 photo credit: buxtoninn.com
Ohio's oldest continually running bed and breakfast, which is impressive, since it's just crammed full of ghosts and none of them pay for their rooms.
This 200 year-old, nearly 30,000 square-foot property features 10 total buildings, six fountains, and one lady in blue said to stalk the properties trying to find her disembodied feet.
It's tough because the feet are also said to stalk the property and they're faster than she is, because she doesn't have feet. Still interested? It will only set you back $3.9 million. And your feet.
Location: Granville, Ohio
11. Poveglia Island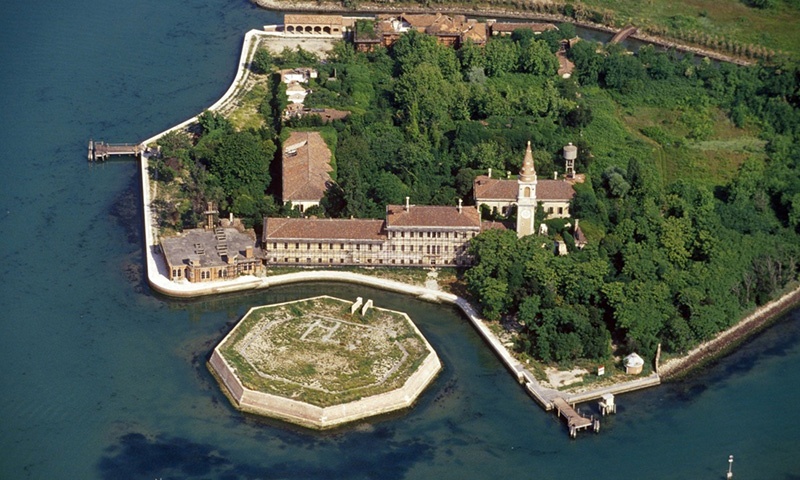 photo credit: huffingtonpost.com
Poveglia Island is a secluded little piece of land that even the macho-iest of Italians stay away from. The final restless place of thousands of diseased, murderous and insane people, Poveglia is the convergence of everything we know about evil. So what's the deal with this island of spooky terror?
The dark history of Poveglia Island began during the Roman Era when it was used to isolate plague victims from the general population. Centuries later, when the Black Death rolled through Europe it served that purpose again.
The dead were dumped into large pits and buried or burned.
In 1922 the island became home to a psychiatric hospital complete with a large and very impressive bell tower. The patients of this hospital immediately began to report that they would see ghosts of plague victims on the island and that they would be kept up at night hearing the tortured wails of the suffering spirits. But because they were already considered mad by the hospital staff, these complaints were largely ignored.
One doctor decided to make a name for himself by experimenting on his subjects to find a cure for insanity. Lobotomies were performed on his pitiable patients using crude tools like hand drills, chisels, and hammers. Those patients and even the ones who were not privy to the doctor's special attentions were taken to the bell tower where they were tortured and subjected to a number of inhumane horrors.
The core of the island is literally human remains that has given the island a loathsome reputation, but appears to be very good for the grapevines that are planted there.
Think about that next time you partake of Italian wine!
Location: Poveglia Island, Italy
12. McRaven Tour Home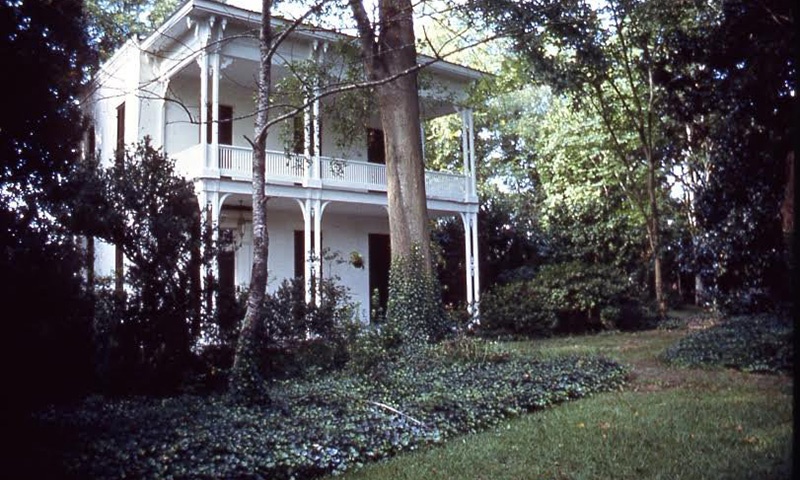 photo credit: hwpengine.netdna-cdn.com
Called 'the time capsule of the South,' this Civil War-era home is considered the most haunted in Mississippi. At least five inhabitants died in or near the home, according to mcraventourhome.com.
John H. Bobb, who is credited with building the last section of the house, is said to have died violently at the hands of Federal soldiers outside McRaven. One of the former owners, who died during childbirth in 1836, is also believed to grace the home with her spirit.
You can buy this haunted estate for around: $575,000
Location: Vicksburg, Mississippi
13. Edinburg Castle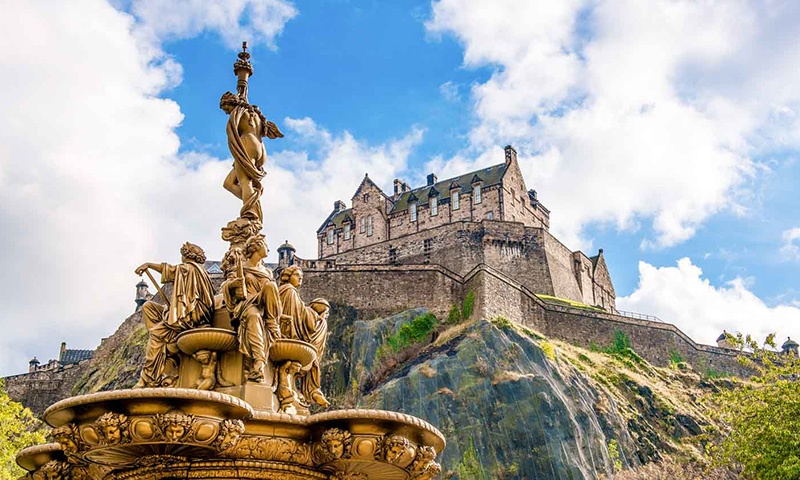 photo credit: cdn.getyourguide.com
One of the largest ghost hunts ever conducted resulted in dozens of strange experiences, unexplained photos... and perhaps more questions than answers
Edinburgh Castle is reputed to be one of the most haunted spots in Scotland. And Edinburgh itself has been called the most haunted city in all of Europe. On various occasions, visitors to the castle have reported a phantom piper, a headless drummer, the spirits of French prisoners from the Seven Years War and colonial prisoners from the American Revolutionary War -- even the ghost of a dog wandering in the grounds' dog cemetery.
The castle standing magnificently between sea and hills, is a historical fortress, parts of which are more than 900 years old. The cells of its ancient dungeon, the site of uncounted deaths, could very well be an eternal place of unrest for numerous spirits. Other areas of Edinburgh also have ghostly reputations: the subterranean vaults of South Bridge and a disused street called Mary Kings Close where victims of the Black Death plague were sealed up to die.
Location: Edinburgh, Scotland