Mission Hills & Hillcrest - 92103
Neighborhood Spotlight
Located northwest of San Diego's renowned Balboa Park, the Mission Hills and Hillcrest neighborhoods are among San Diego's oldest and most established neighborhoods. Unlike some of the newer developed areas in San Diego, many homes in these neighborhoods are filled with classic charm and character that you just don't see in new construction today. Throughout the neighborhoods, you will find many homes built in the early 1900's, with the first home in the area, Villa Orizaba, being built in 1887! Particularly in the north Mission Hills neighborhood, you will find gorgeous craftsman, colonial, bungalow, and spanish style homes packed with the most intricate of details. Some of San Diego's well known architects designed homes in the area and the architectural diversity is one of the many desirable features in these neighborhoods.
If you've had the chance to travel down the iconic tree-lined historic streets, it is easy to see why Mission Hills is one of San Diego's most desirable and affluent neighborhoods. Conveniently located close to downtown San Diego, the airport, beaches and highways; you are within minutes of all that San Diego has to offer while still feeling like you are in your own little oasis. Unlike much of San Diego, greenery is abundant in the Mission Hills neighborhood with many homes having lush landscaping. Among the most exclusive parts of Mission Hills, located in the west and northwest corners of the neighborhood, you will find high-end luxury homes with stunning views overlooking San Diego Bay and Downtown San Diego. Scattered throughout the area are also many homes with views of the winding canyons.
Although most of the Mission Hills neighborhood is residential, there are a couple pockets where you will find restaurants and boutique shops. Located just north of Washington St on Goldfinch, you'll find several great restaurants. One of our personal favorites is The Patio, which features delicious food that is also affordable with a great ambiance. On the same street you'll also find a local favorite, Lefty's Chicago Pizzeria, along with Brooklyn Girl, The Huddle, and Harley Gray Kitchen & Bar. It's hard to go wrong finding delicious food in this area, because even if none of those restaurants suit your fancy, you're a quick walk from Cafe Bleu, Farmer's Bottega, and The Wellington. If you're looking for a great date night idea, consider grabbing dinner at one of the many restaurants and then heading over to the Cinema Under the Stars, San Diego's premier outdoor theater. Although they may not have the latest blockbuster hits, throughout the summer they play many cult classics and you get your own, (very comfortable!), reclining chair, pillows, and blankets. It's one of our favorite date night spots, and if you aren't yet convinced to check it out, popcorn is only $2 for your own bag!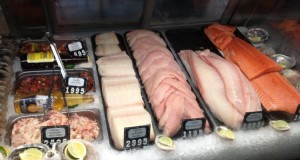 If you're looking for some more affordable options, maybe for lunch or some late night eats, head down the hill to India Street. This area is home to a few of our favorite spots in all of San Diego. If you're feeling seafood, Blue Water Seafood and Grill is a must! The freshest and most affordable good seafood I have had in San Diego, but be prepared to wait in a looonnnggg line. No matter the time of day, there is almost always a line at this establishment, but it is well worth the wait. Here's a local tip: call ahead and pick it up to skip the line! Just a few doors down you'll find my personal favorite sandwich shop as well, Rubicon Deli. Sandwich shops are a dime a dozen but what really sets Rubicon apart is their amazing bread (and they even have Gluten Free)! Choose one of their signature sandwiches or create your own, either way, your stomach will thank you!
I also cannot forget to mention the local favorite, Lucha Libre Gourmet Taco Shop.

This place is… interesting, to say the least. Once you get past the line and inside, you're greeted with a gaudy, over-the-top pepto bismol pink restaurant filled with Mexican wrestling masks and memorabilia, but they pull off the decor so well. This is my go-to spot for the best (and some of the largest in size) burritos in San Diego! Don't forget to load up with one, or maybe even all, of the many dipping sauces they have. And if you are feeling like a champion, you can reserve your own personal golden "champion's booth" 24 hours in advance so you can enjoy your monster burrito VIP style. There are so many restaurants packed into this little part of town, fondly referred to as "International Restaurant Row", that it is hard to list them all. However, this is another part of town where no matter what kind of food you're looking for, you'll find some amazing options.
While Mission Hills has more of a residential and neighborhood feel, its neighbor to the east, Hillcrest, is more urban and developed, despite the two areas sharing the same zip code. You will still find many single family homes in the Hillcrest area, but they are typically much smaller, closer together, and there are many more condo developments and multi-units than in Mission Hills. In Hillcrest you will also find the UC San Diego Medical Center, Mercy Hospital, and The HUB Hillcrest Market which is packed with shops and restaurants. Beginning in the 1970's, many members of the LGBT community started moving to this area. Today, Hillcrest is the epicenter of the LGBT community and in many of the local restaurants, shops, and homes, you will see the iconic, rainbow flag waving proudly.
There is always tons of energy in this neighborhood with plenty of robust nightlife, restaurants and bars. If you're looking to start your night with some dinner, two of our favorite spots are the Fig Tree Cafe and Kous Kous. The Fig Tree Cafe, a "California eatery", has great farm-to-table dishes, reasonably priced, providing a great setting for the perfect date. Kous Kous Moroccan Bistro offers some unique ethnic cuisine that is simply put, amazing. I think it may be the only authentic Moroccan food that I've had, so I don't have much to compare it to, but it is really delicious and I would suggest giving it a try even if you're not typically into that kind of cuisine! If your night continues in Hillcrest, you have more than a few options. Due to the large population of LGBT, you will find that many of the bars and clubs are self-proclaimed gay bars. That's not to say that you can't have a killer time out on the town! Some of the more notable mentions are Rich's, The Brass Rail, Urban Mo's and Baja Betty's. I know Melissa had a blast at Rich's for her bachelorette party, where the drinks were strong and the dancing wild, and I'm interested to one day check out this iconic spot myself!
If you wake up on Sunday morning with a splitting hangover from a wild night out, fear not! Hillcrest is home to some of San Diego's best brunch locations. Now the topic of brunch can be a heated one when it comes to people's favorite places, especially here in San Diego where we have so many delectable options. In Hillcrest, three of our favorite options are: Hash House A Go Go, Great Maple, and Snooze Eatery. All have fantastic food and most likely a line out the door.
Lastly, I wanted to include some details on Bankers Hill, also known as Park West. Although not part of the 92103 zip code (it is 92101 with Downtown San Diego), it's located directly south of Hillcrest and north of Little Italy. This neighborhood is somewhat of a segway from Downtown to the Mission Hills and Hillcrest neighborhoods. This area is mostly residential, with many single family homes, multi-units, and some large condo developments. Because of its proximity to Balboa Park, the large development projects on 6th ave overlooking the park are home to some of San Diego's most luxurious condos and offer views of not only the park, but also San Diego Bay and Downtown. It is in Banker's Hill that you will find the self proclaimed "toughest reservation in the city" for fine dining at Mister A's. Located on the 12th floor of a building on 5th Avenue, throw on your eveningwear and take in the stunning 360 degree panoramic views of Downtown San Diego, the Bay, Coronado, and Balboa Park, all while enjoying some of the finest cuisine the city has to offer. If you're looking for some fantastic food in the area but don't want to break the bank, check out Bankers Hill Bar and Restaurant. Although there is no view here, you can still find some fantastic food and cocktails enjoyed in a great environment. Another great spot to check out in the area is Azuki Sushi. While there are tons of sushi options throughout San Diego, Azuki Sushi offers great food and is also affordable, some of their specialty rolls are my absolute favorite. Every time we want sushi, I hopefully throw out Azuki as my top choice!
Have you had a chance to get out and explore these parts of town? Let us know what your favorite features and spots are in the neighborhood or reach out if you're looking for suggestions! We're always happy to share our favorite spots and help others to get to know more of America's Finest City, San Diego!
---
The above real estate information on Mission Hills & Hillcrest - 92103 was provided by John and Melissa Steele. John and Melissa can be reached at steelesandiegohomes@gmail.com or by phone at 619-887-4429.
Considering buying or selling a home? John and Melissa of Steele San Diego Homes have a passion for Real Estate and would love to share their expertise with you!
Steele San Diego Homes services all of San Diego county and also works with out of area clients to connect them with a strong local agent. Whether you're interested in buying, selling, investing, or just want to learn more, John and Melissa Steele are here to help you.