Snapchat for Real Estate
"Are you on Snapchat?" "Add me on Snapchat!"
"What's your Snapchat name?" "Send me a snap!"
If you have spent any time recently with the younger generation, or online in the past few months, you've likely heard the word, "Snapchat", being thrown around. And many of us, including myself, up until a few months ago, are saying… "What the heck is Snapchat?"
So What is Snapchat?
Snapchat is one of the more recent additions to the competitive world of social media platforms. A mobile app for both iOS and Andriod, Snapchat is a photo and video messaging app that has been exploding in growth over the past few months. You've probably started to see this little yellow ghost icon popping up in different areas of your life - in people's profile pictures, on T-shirts, on marketing materials. That is Snapchat.

Created in September of 2011, Snapchat is now one of the biggest and fastest growing social media platforms out there. In fact, you may be surprised how big Snapchat really is. Currently, in 2016, Snapchat users view more than 7 billion videos... per day. That's billion with a B! Facebook even tried to buy Snapchat back in 2013 for $3 Billion, but the offer was turned down in a move that shocked many. And that was before Snapchat was even "big". This just goes to show you how much potential this app has.
So how is Snapchat different from the other social media platforms and why is everyone flocking to it? Snapchat has a few key features that separate it from the rest of the social media platforms. The biggest difference being that "Snaps", or messages, pictures and videos, are temporary. A snap you send to your friends only lasts a maximum of 10 seconds and videos you send to your story are only available to viewers for 24 hours, then they disappear. You may think this is a little strange, especially since all the other social media platforms like Facebook, Instagram, and Twitter, are all about the likes and shares. Snapchat, on the other hand, is all about the user experience. Snapchat is meant to be fun, candid, creative, and even downright weird at times. When the founders first started Snapchat, they described their mission: "Snapchat isn't about capturing the traditional Kodak moment. It's about communicating with the full range of human emotion - not just what appears to be pretty or perfect." Their goal was to be completely different than the manufactured lives we all share on the other platforms. Snapchat is meant to be raw, and millions of people are responding positively to it.
With Snapchat, you aren't "competing" with others to see who is the most "popular" with likes and shares, hearts, stars, and retweets. It's just you, your friends, and your followers, and whatever you want to share with them. Not only are you able to share pictures and videos, but you are also able to edit them in a multitude of different ways. From adding text over your images, to drawing pictures and designs, to making your face look like a dog, or even swapping faces with a friend, there are many ways to get creative. You can also add "geo-tags" which are text and graphics specific to your location that can show where you are or what you are up to. All of these add up to a fun and exciting social media experience that is unique only to Snapchat.
How does Snapchat work?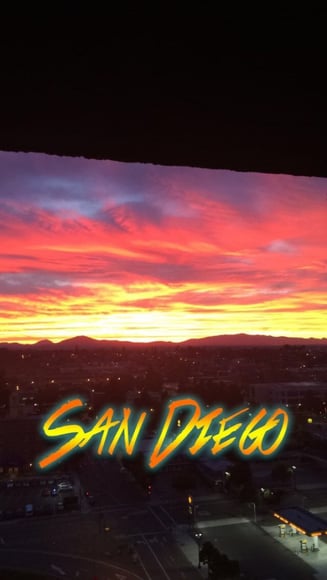 I'll be the first to admit that when I first started using Snapchat, I thought it was the dumbest thing ever. Then I started bumping into more and more people who were so stoked on it that I had to give it another try. After giving it a second chance, and sending a few awkward snapchat videos to friends, I was hooked.
Just like any other camera app, Snapchat starts by taking a photo or video. You can then make edits to it and then decide how you want to share it. You can private message your snap to individual friends, or you can upload the snap to your "story". Private snaps can only be viewed once, and your story can be viewed as many times as you want within 24 hours of when the snap was taken. You can send snaps or messages back in response or even take screenshots. If you'd like, you can even save your snaps or your story to your photo album and share them on other online platforms.
Snapchat for Real Estate
So what does Snapchat have to do with Real Estate? Video is king these days and with real estate agents and professionals using the app, it can be a great way to keep in touch with others, while giving clients and followers a candid and behind the scenes look into the real estate world. We started using Snapchat for our business a few months ago and have had some amazing interactions, much more than we were even expecting. Being in real estate, every day is different for us, and we are often all over town and viewing many different properties. With Snapchat, we are able to give our viewers an intimate look into not only the real estate market, but our personal lives as well. Here are just a few ways that we are using Snapchat.
Previewing Property
This is one of the coolest uses of Snapchat. As real estate agents, we view so many different kinds of homes. From multi-million dollar mansions, to homes that are practically falling down. When viewing homes, we will take snaps of the properties, giving details of the home, valuable real estate advice and tips, and we also have fun with it too. The response has been awesome. We get snaps and messages back all the time from viewers saying things such as "That house looks amazing! How much is it?", "That is my dream home!", and "Where is that home located?". If you thought people loved looking at pictures of homes online, viewing behind the scenes videos of homes is even better. Just think if you were on the market for a home and working with your agent. Your Realtor may send you a text about how they just viewed an amazing home that they thought would be great for you. That gets you excited right? Now imagine if they were sending you pictures and videos with explanations of the great features it has and why it may be a great fit for you. You can see how this can be a fantastic tool as a homebuyer!
Real Estate Tips and Advice
Snapchat doesn't have to be all fun and games, it can be a great tool for information as well. We have had viewers snap us with questions and ask us for advice. And how awesome is it that you can get a personalized video answering your questions sent right back to you? It is much more personal than an email! We tell our viewers all the time to reach out to us with any questions. They can even snap pictures of their homes and ask us what we think of them. "Should I redo my kitchen before listing my home?", "What do you think of this flooring?", "How could I make my home show better?" And the list goes on.
Sharing Who We Are

Not only do you get to view many different properties and keep your eye on the local market, you also get an intimate look into our lives and who we are. As I mentioned before, Snapchat is meant to be candid. With Snapchat, you don't get the stiff, scripted videos that are often bland and boring. You get to see us in our element, unfiltered. We love what we do and we like to have fun doing it. We not only provide value but you get to see us joking around and get a better idea of who we are and what we are about. Real estate is a relationship business and we not only want to provide our clients with the best service, we want to connect with them on a deeper level. Following our snap story gives you a unique perspective into who we are and what we stand for and it allows you to connect in a deeper, more meaningful way than any other social media platform.
So whether you decide to jump on the Snapchat bandwagon or not, that is up to you. But I would highly suggest at least giving it a shot. You may just find yourself sucked in and sending silly snaps and emojis to your friends and family. If you want to follow our story on snapchat, "snap" the image below or click this link! We love to connect with others on Snapchat and see what everyone is doing. Each person's story, and how they use the app is always unique!
---
The above real estate information on Snapchat for Real Estate was provided by John and Melissa Steele. John and Melissa can be reached at steelesandiegohomes@gmail.com or by phone at 619-887-4429.
Considering buying or selling a home? John and Melissa of Steele San Diego Homes have a passion for Real Estate and would love to share their expertise with you!
Steele San Diego Homes services all of San Diego county and also works with out of area clients to connect them with a strong local agent. Whether you're interested in buying, selling, investing, or just want to learn more, John and Melissa Steele are here to help you.