City Heights is a bustling, large and diverse neighborhood located in the heart of San Diego.
The community ranks high as a livable city with plenty of local amenities, a stable housing market and great weather year-round.
Formed and named by Entrepreneurs Abraham Klauber and Samuel Steiner in the 1880's. The community was established as a city known as East San Diego in 1912. It wasn't until December 31, 1923 that East San Diego ceased to exist as a separate entity and was combined with the City of San Diego where it officially became "City Heights".
In the mid 1900's the area became a noteworthy commercial center contending with other parts of San Diego. This boom slowed down in the 60's with the opening of larger commercial areas (such as Fashion Valley, Mission Valley, and the College Grove Shopping Center). It wasn't until the early 2000s that redevelopment efforts opened up a lot of what makes up the community today.
City Heights currently has a population of approximately 76,000 and growing.
City Heights Real Estate Market
Development in City Heights is comprised of single-family and multi-family residences with commercial and other non-residential development centred along El Cajon Boulevard, University Avenue, Fairmount Avenue, and Euclid Avenue.
The Median List Price for real estate in City heights is $471K with the average listing staying on the market around 48 days.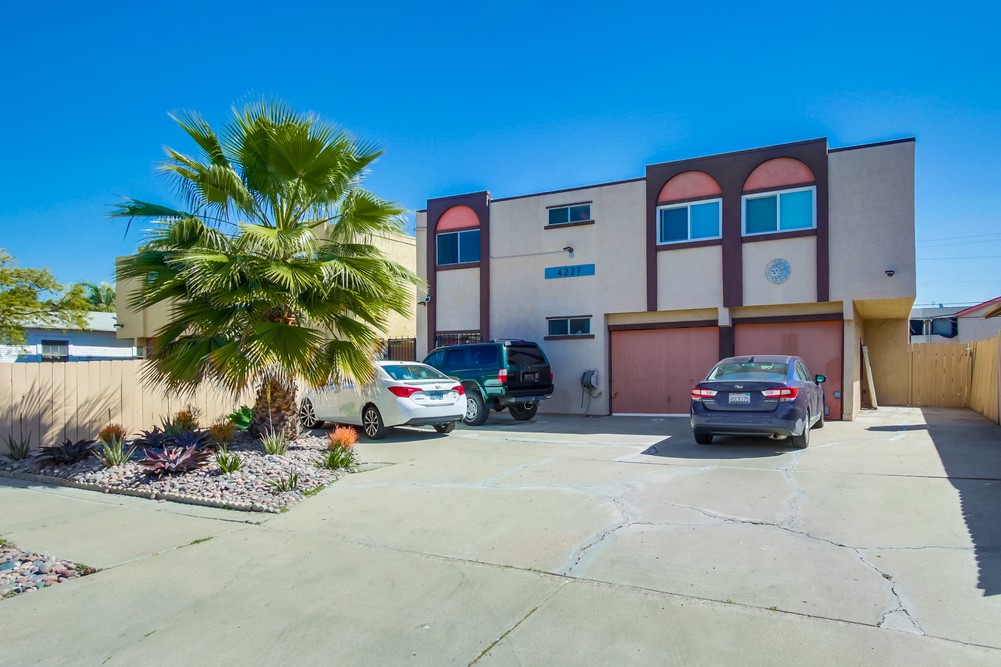 The Median Price per sq. ft. Is $416.
AMENITIES IN
City Heights
City Heights can be separated into sixteen distinguishable neighborhoods, each with its own unique identity. A few of the neighborhoods that comprise City Heights are: Corridor, Teralta West, Teralta East, Colina Park, Cherokee Point, Castle, Azalea Park, Hollywood Park, Fairmount Park, Bayridge, Fairmount Village, Swan Canyon, Islenair, Ridgeview, Chollas Creek and Fox Canyon.
The area has plenty to offer in regards to amenities including a high concentration of retail outlets, restaurants, and other small businesses that boost the economy.
Like other urban neighborhoods north of Balboa Park, City Heights also has a high rate of pedestrian activity relative to the rest of San Diego. It's not uncommon to see pedestrians and bicyclists out and about at 6 am in the morning or at 8 pm at night.
Because of its cultural diversity. City Heights is home to a variety of food and drink options from all corners of the world. A few popular options includes Vietnamese, Chinese, Mexican, Somali, and Ethiopian culinary traditions.
There are also plenty of nightlife options available in the neighborhood. Pubs and bars such as the historic Tower Bar, Black Cat Bar, Til-Two Club, Soda Bar and El Coqui Grill are a few of the many options worth checking out.
Azalea Park is blossoming into an arts district where visitors can find sculptures, art installations, murals and hand-painted signs to denote the flower-named streets.
The Manzanita Gathering Place was built to be a creative refuge awashed in art at the opening at Manzanita Canyon, with canopies and columns incorporating mosaic tiles made by Azalea Park residents.
City Heights has a various selection of of schools with diverse students and teachers. There are a total of twelve public elementary schools, three public middle schools, two public high schools, and two private grade schools, and three charter schools. All of which are in the San Diego Unified School District.
The City Heights/Weingart Branch Library serves the neighborhood and is known as the busiest in San Diego. Connected to the library is the Performance Annex, a black box theatre that offers a variety of dances and music performances, along with lessons for adults and children. It's the only theatre the city owns and operates.
Mid-City
City View
Mid-City
South Park
Oak Park
Golden Hill
Rolando
City Heights is in the middle of everything and is a walkable neighborhood with many of the restaurants, businesses and shops near the main residential pockets.
It's common to see pedestrians, cyclists and scooters throughout the neighborhood and surrounding communities.
Centrally located within San Diego, City Heights has easy access to freeways, Mission Valley commercial centers and the downtown area. University Avenue, El Cajon Boulevard and Fairmount Avenue are the major thoroughfares.
Because of the presence of the University Avenue transit corridor (the busiest in the metro region), City Heights has substantial bus service connecting to Downtown as well as to the Mission Valleytrolley stops.
Top Things To See & Do Nearby
A few of the top things to see and do in City Heights includes:
The Hideout - A fun and casual bar that specializes in theme nights, from Trivia & Tacos to Karoake nights. It's a great place to go for a little fun, relaxation and music.
Copley-Price Family YMCA - This community focused nonprofit offers recreational programs an services for all ages and focus their work in nurturing the potential of kids, helping people live healthier , and supporting their neighbors.
Community Actor's Theatre - This nonprofit theatrical troupe is dedicated to providing drama and creative outlets to the neighborhood. Workshops are available to people of all ages and topics include theater acting skills, theater terminologies, stage presence, auditioning skills, enhance oratorical skills, and build self-esteem.
Mariscos El Titanic - This restaurant serves amazing Mexican and California-style dishes 7 days a week and is definitely worth checking out.
Manzanita Canyon Trail - This beautiful trail is truly a sight to see with its flourishing greenery and tranquil environment. This is the perfect spot to go during the day for a walk with family and friends or a romantic date.
Pancho Villa Farmer's Market - This Market Place offers grocery, meat, deli/hot foods, produce, bakery, and tortilleria. The departments encompass authentic hispanic culture and are something you won't want to miss out on.
Soda Bar - A cozy music venue that calls upon indie artists and accommodates those who want to have a good time with standing areas, a room for dancing, seating in retro padded booths and more. This live music bar serves beer and mixed drinks. Soda Bar is a popular place among locals as well as visitors.
Colina Park Golf Course - An 18-hole golf course open to the public seven days a week. This City Heights attraction offers guests of all skill levels a fun and challenging way to test their golfing.
Queen Bee's Art & Cultural Center - A multi-purpose venue, hosts everything from dance classes to open mic nights, art shows, private parties, and much more.
City Heights is a vibrant and diverse community rich with its humble, warm and welcoming people. There are many small business shops and restaurants that keeps the local economy growing. Plenty of amenities, warm weather, and affordable housing makes City Heights a very viable neighborhood to live or invest in.
Still browsing? Check out our listings on our website! We use the latest and greatest technology to offer our clients video tours for certain properties. You can also check out what other properties are available in different San Diego communities to help with your real estate search via our multiple listing service. Just contact us and we can help you find your future home!