San Diego is truly heaven on earth and today we want to give you a fresh new perspective on the area. With so much to see and do here we thought we'd put together a list of the best spots to photograph for professionals and amateurs alike showcasing some of the best photos we've seen from top talent at each location.
Whether you're looking for cool new shot locations to put a spin on those wedding photos, build your portfolio, or you're just starting out looking to grow your Instagram following and wow your friends on Snapchat–this is the post for you!
Don't forget to bookmark this page to quickly review it the next time you're out and about and feel the need to explore, get creative and have some fun!
Here are The Best Spots To Photograph In San Diego:
Sunset Cliffs Ocean Beach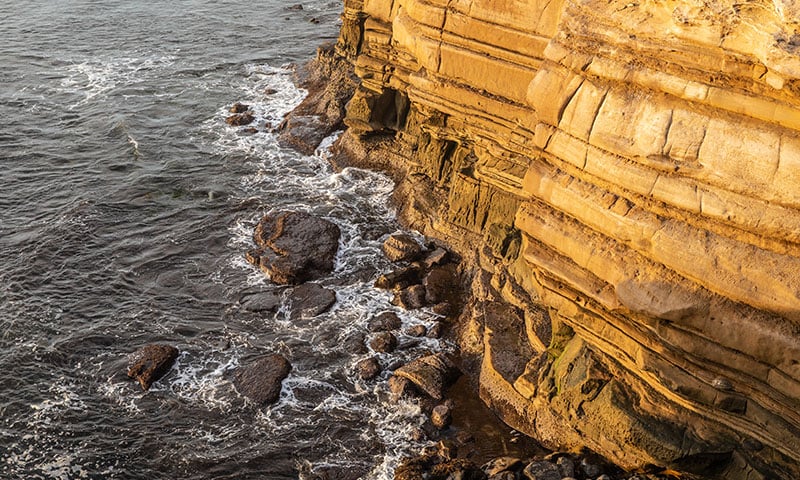 Ocean Beach is a popular destination for those who love antiquing, dogs or just love the low-key beach life. Sunset Cliffs is one of the key attractions in Ocean Beach. With an 18-acre stretch of park on the ocean bluffs and a gorgeous western view of the Pacific Ocean, it's a no-brainer as to why this area got its name.
Learn more about Ocean Beach in our Neighborhood Spotlight!
Coronado Overlooking Downtown San Diego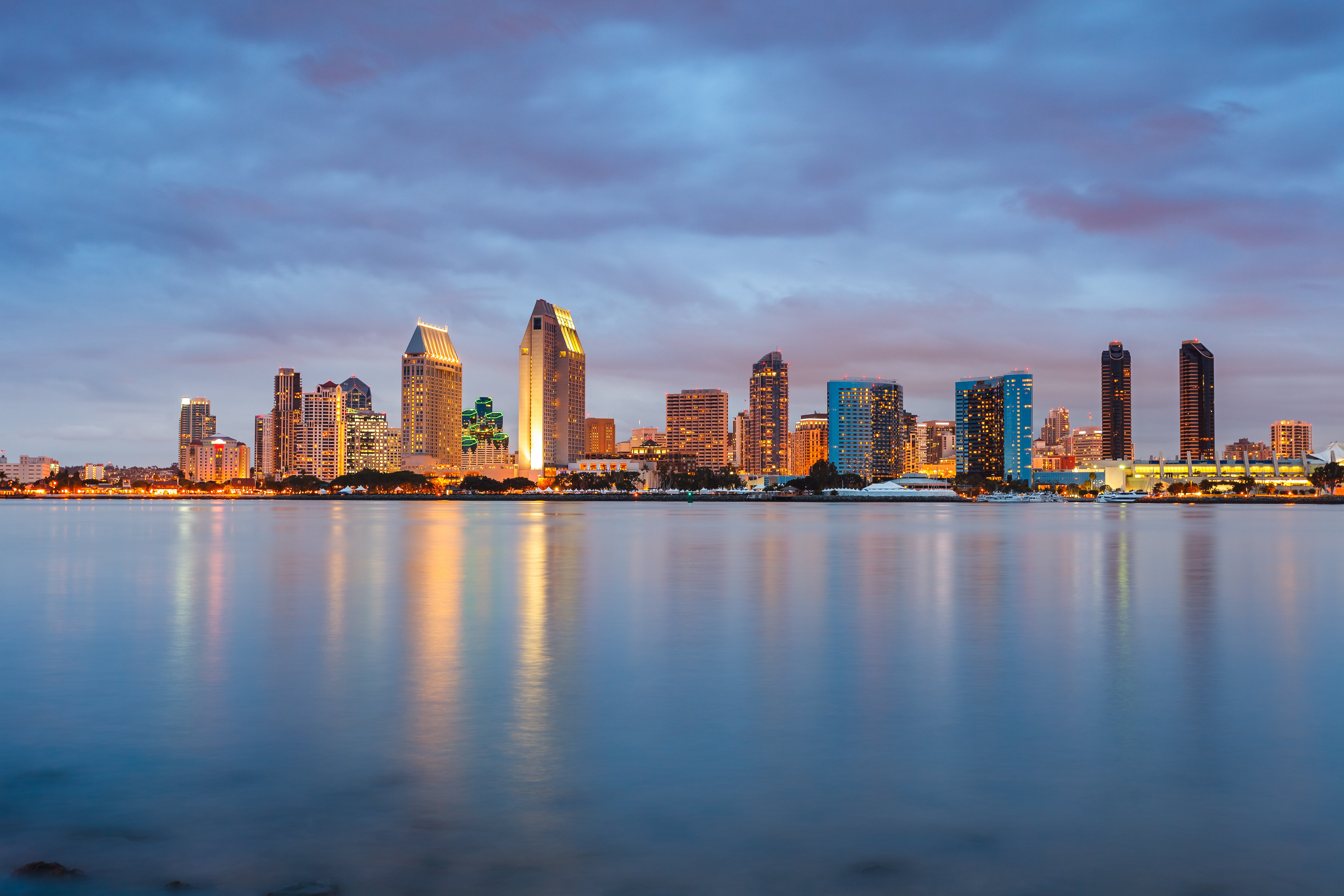 Home to the Famous Hotel Del Coronado, Coronado Island is an amazing photo destination spot with picturesque beaches and gorgeous views of San Diego. No matter your location on Coronado Island, you will definitely stumble across plenty of amazing picture stops.
Point Loma Harbor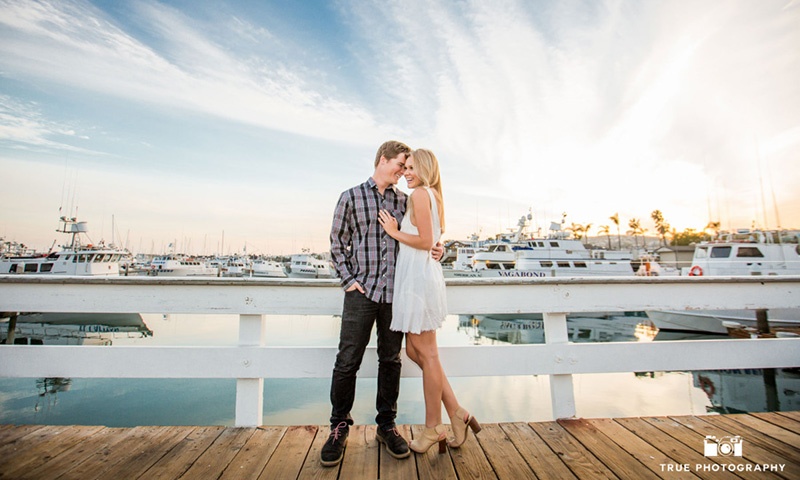 Photo Credit: truephotography
Home to the Cabrillo National Monument and Liberty Station, Point Loma Harbor has everything from gorgeous bay views to bright sunny fields, the Point loma harbor is a go to spot for golfing, eating and general leisure.
There's so much to do in Point Loma! Check out more information in our Point Loma Neighborhood Spotlight.
Scripps Pier La Jolla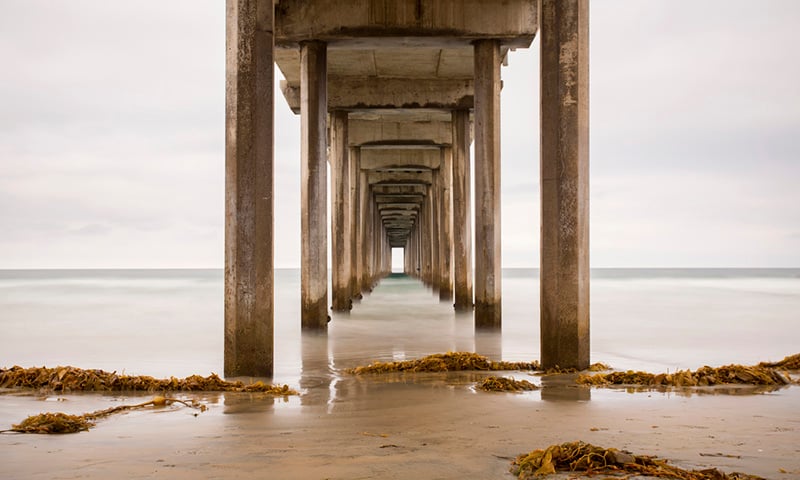 Located down the shores of La Jolla Shores is the Scripps Pier of Oceanography. While the public is rarely allowed on the pier, the underside is often visited by photographers and general beach goers. Twice a year, the sun sets directly between the legs of the pier. This usually happens between May and August.
La Jolla has so much to offer! Have you thought about what it's like to live in La Jolla?
Salk Institute of Biological Studies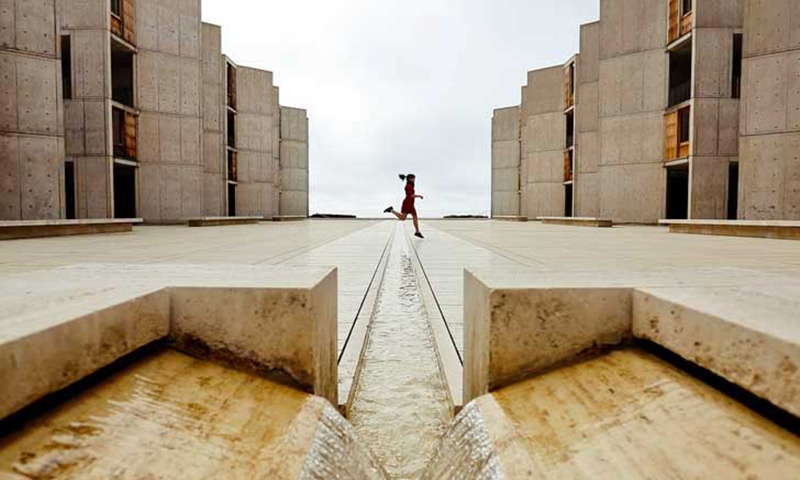 Photo Credit: localadventurer
As an indpendent, non-profit biological research center, the Salk Institute itself isn't open to the public, but during daylight hours the courtyard is. The symmetrical architecture makes this place an amazing spot for portrait and architectural photos.

You can find the Salk Institute in La Jolla!
Ho Chi Minh Trail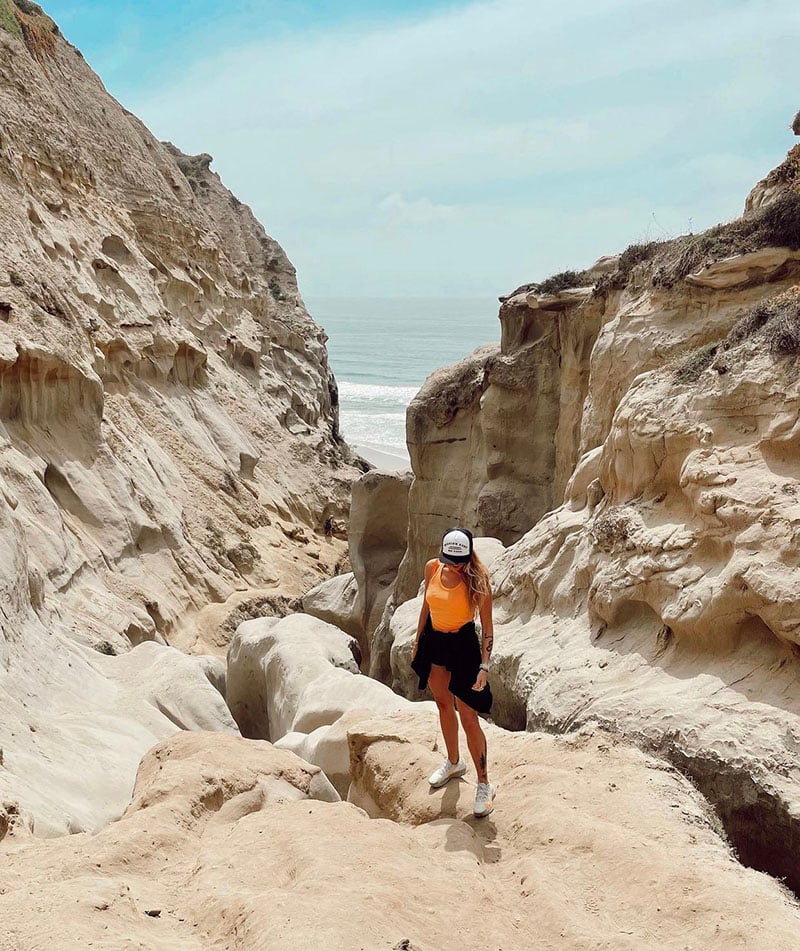 Photo Credit: Kayla
The Ho Chi Minh Trail is a rocky hike down to Black's Beach in La Jolla. While it can be quite steep and difficult for an amateur hiker, the views of the Pacific Ocean make the hike worth it.
Blacks Beach La Jolla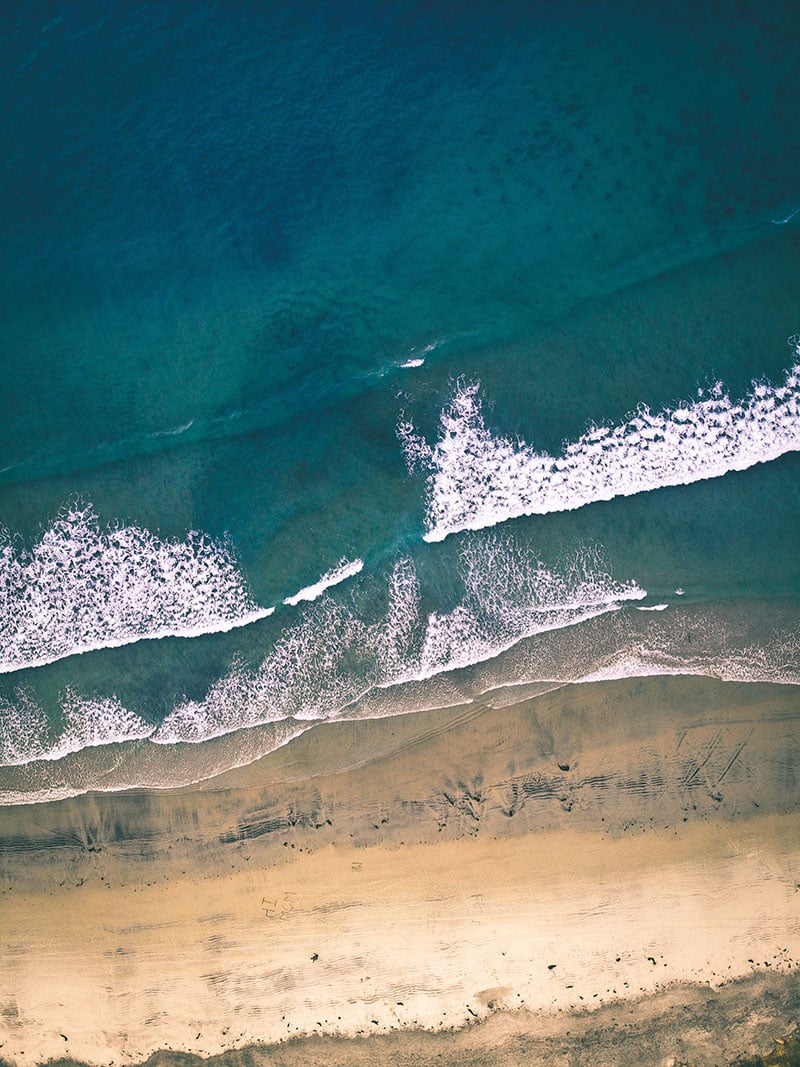 Photo Credit: Garrett Patz
Black's Beach in La Jolla is technically part of the Torrey Pines State Reserve, but some parts are managed and operated by the City of San Diego. Black's Beach is one of the only nude beaches in San Diego.
The Pond in Balboa Park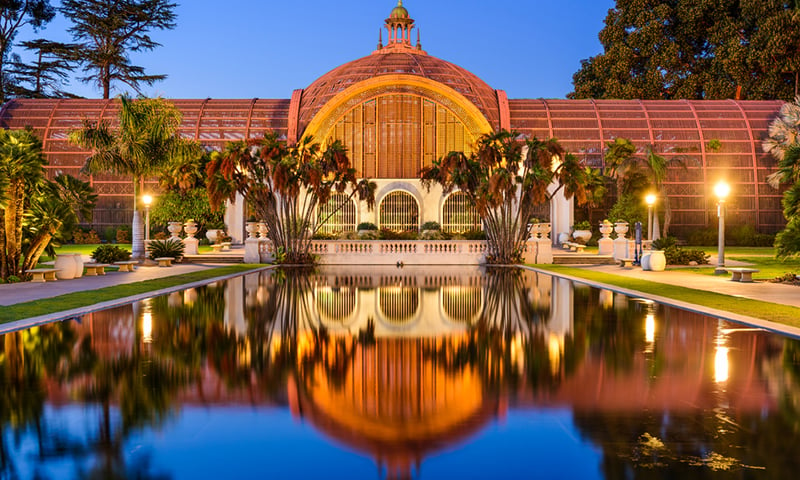 While Balboa Park has hundreds of picturesque opportunities, the koi pond outside of the Botanical Garden is a crowd favorite for weddings, engagement, and graduation photos. Balboa Park has so many different things to offer, even if you're not a photography buff.
Broken Hill in Torrey Pines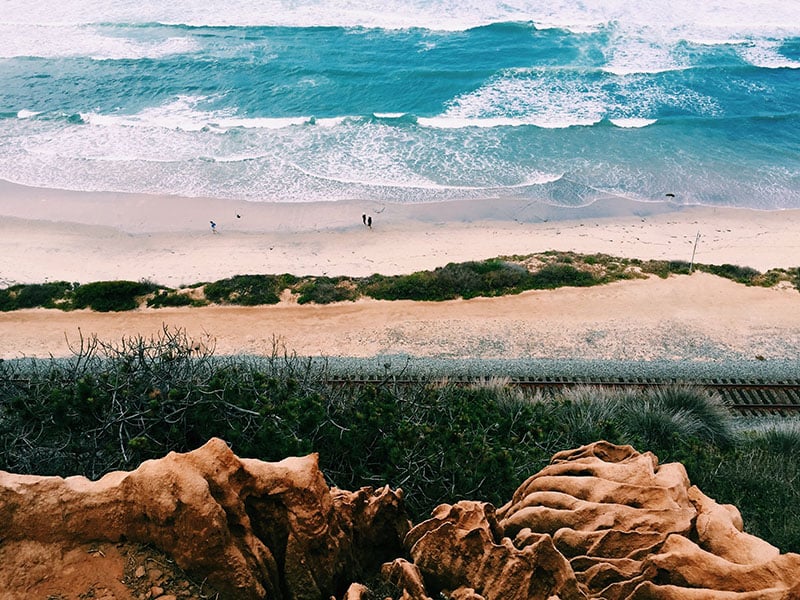 Photo Credit: Patrick Fore
The Broken Hill is located in Torrey Pines State Reserve on the border of La Jolla and Del Mar. This beautiful trail is located on the southern half of the park and is a great place to catch the sunset over the ocean.
The Dr. Seuss Tree in La Jolla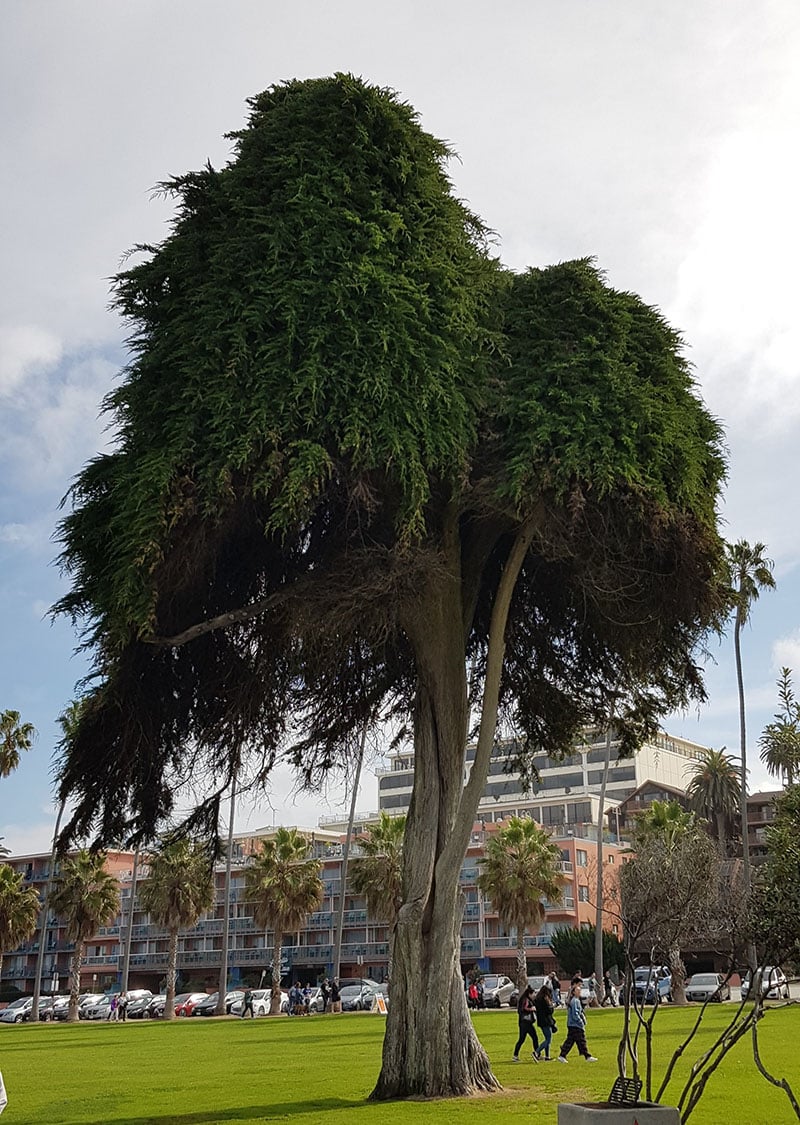 Photo Credit: Hillary Dawn
Located in Scripps Park in La Jolla is the Dr. Seuss tree, thought to be the inspiration for the famous story The Lorax. Within walking distance of Children's Cove and Downtown La Jolla, this area is a great place to settle down for a nice picnic with the family.
Self-Realization Fellowship Meditation Garden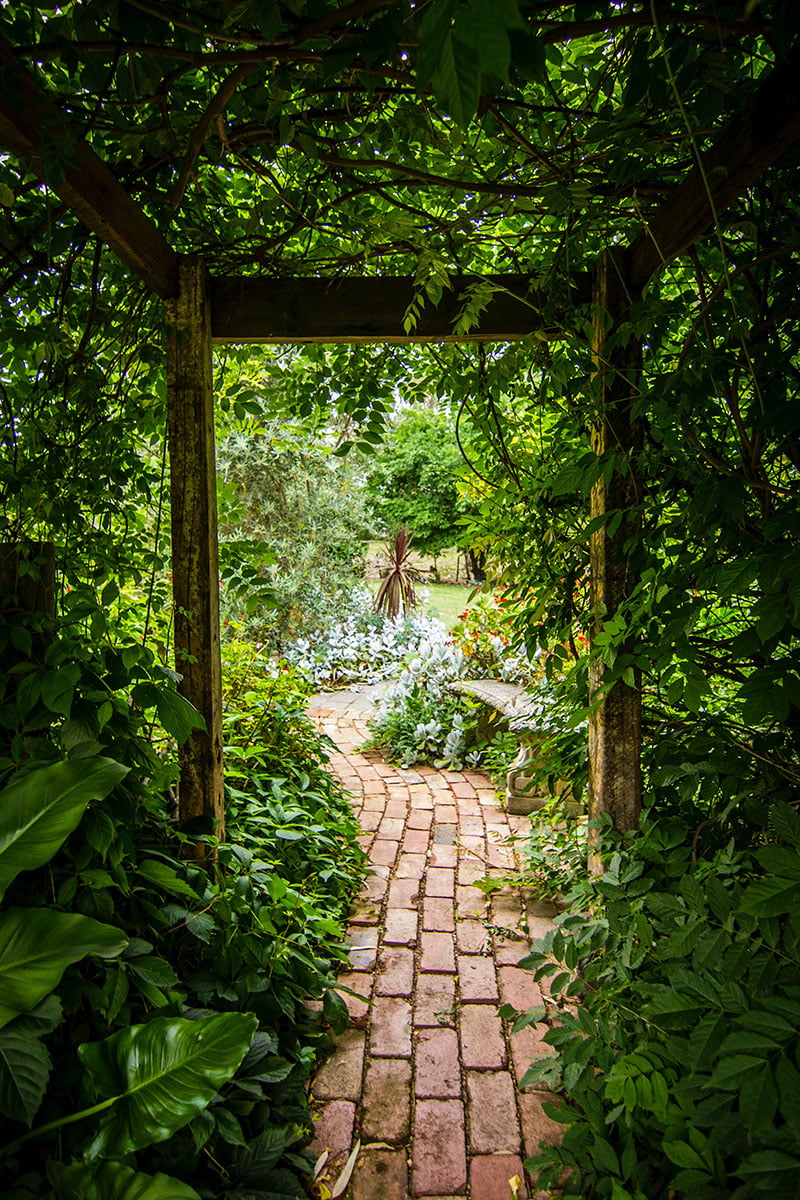 Photo Credit: Tim Cooper
The Self-Realization Fellowship Meditation is a lush, beautiful garden located in Encinitas. The Self-Realization Fellowship is dedicated to the teachings of Paramhansa Yoganandas and fostering a greater spirit of greater harmony and good will.
Potato Chip Rock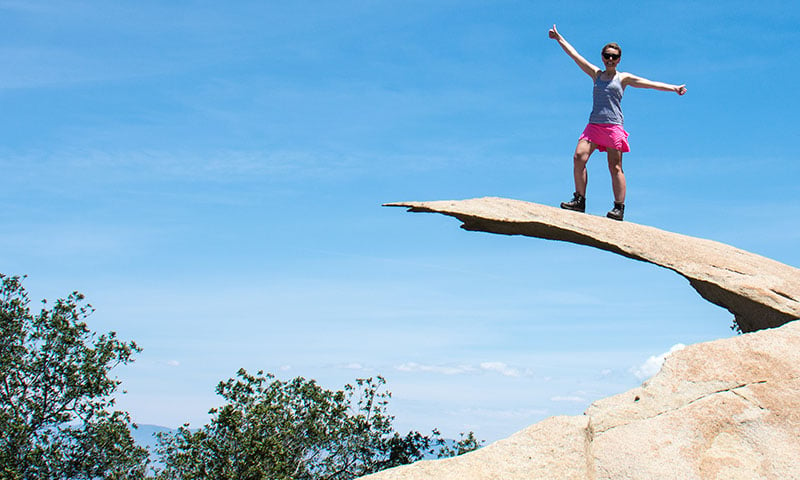 Located up in Poway is Mount Woodson trail, a moderate 7.5 mile hike which features a lake and Potato Chip Rock, a well-known natural landmark that many locals can instantly recognize. The trail is open year-round, so there will always be an opportunity to check it out!
Museum of Contemporary Art San Diego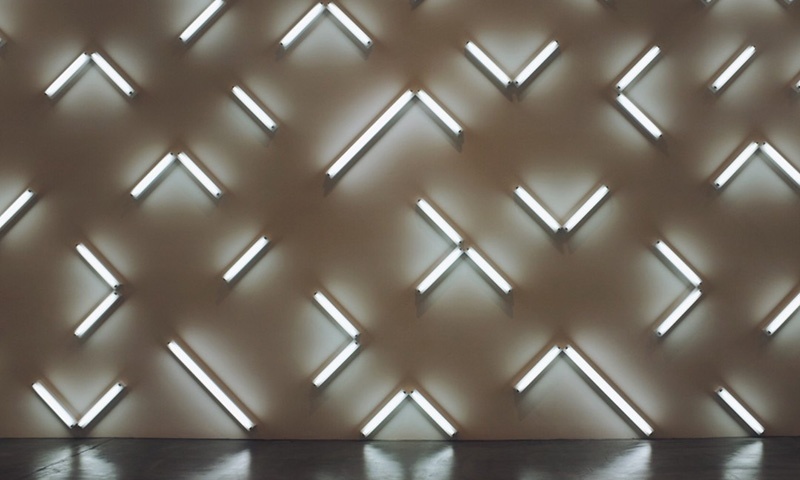 Photo Credit: alyssamopia
San Diego is lucky enough to have not one, but two locations for the Museum of Contemporary Art. One is located in Downtown La Jolla, but is currently being renovated for an expansions (as of Summer of 2017), and the other is located right across the way from the Santa Fe Depot in Downtown San Diego.
The Flower Fields at Carlsbad Ranch (Spring Only)
Between the months of March and May, the Carlsbad Ranch Flower Fields opens up their lush ranunculus fields to the public. While these fields are only open for a short amount of time, this place is a fantastic attraction for locals and tourists alike.
Mount Soledad Cross La Jolla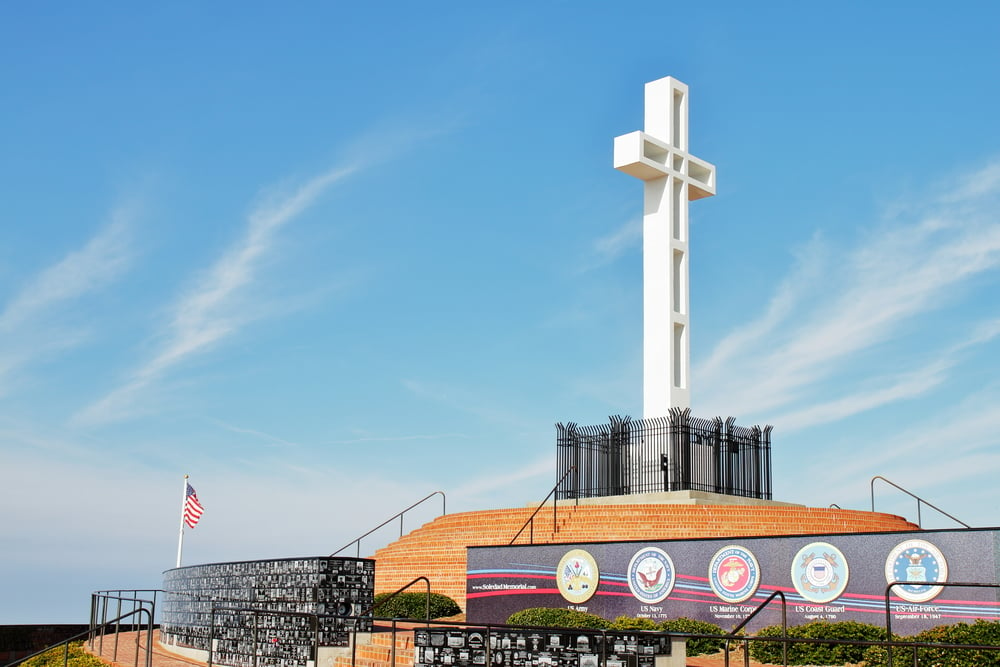 The Mount Soledad National Veterans memorial is one of the most unique Veterans memorials in the United States. While there have been some controversies regarding the religious implications of the cross, it still remains an iconic landmark of La Jolla.
The Church of Jesus Christ of Latter Day Saints La Jolla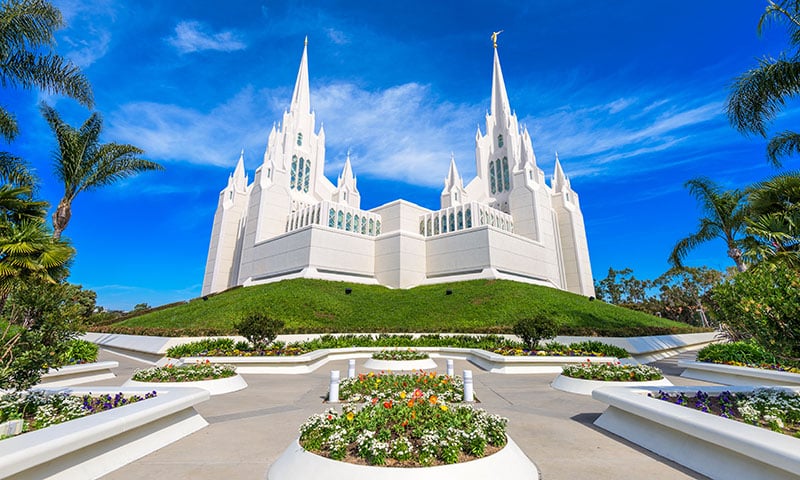 The San Diego California Temple is the 45th operating temple of the Church of Latter Day Saints. While the church itself isn't open to the public, the exterior is available for wandering to the public. The area itself is an architectural feat, as well as a twinkling site during the holidays.
San Diego Wild Animal Park Escondido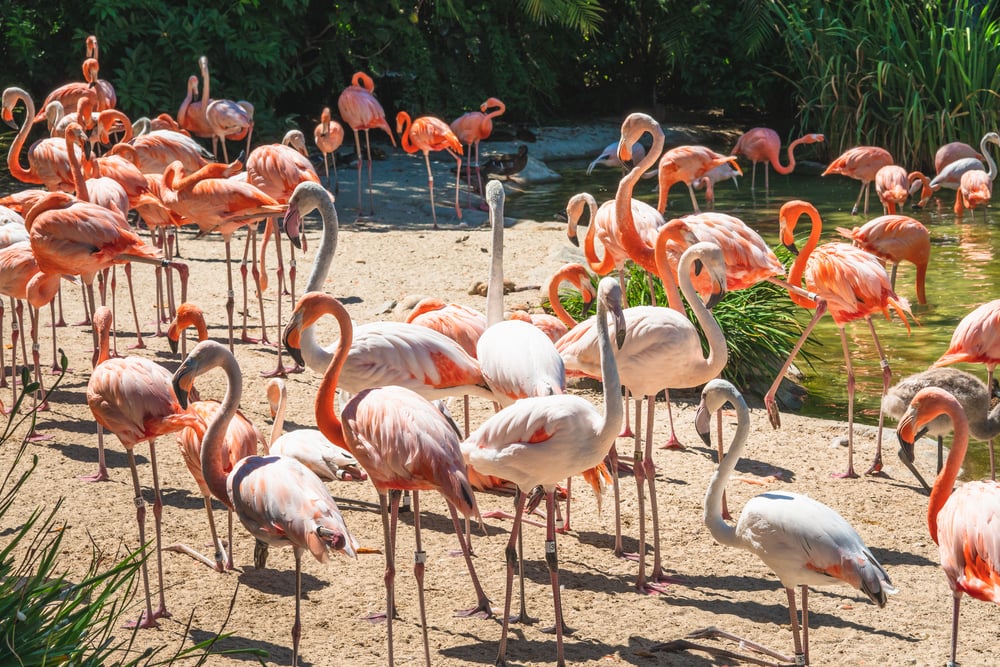 The San Diego Zoo Safari Park is an extension of the world famous San Diego Zoo. This Wild Animal park is located in Escondido, where there's much more space for the animals to roam. While the main section of the zoo is based in Balboa Park, the Escondido Safari Park offers many unique opportunities, such as a Safari tour and a Zipline.
Children's Pool La Jolla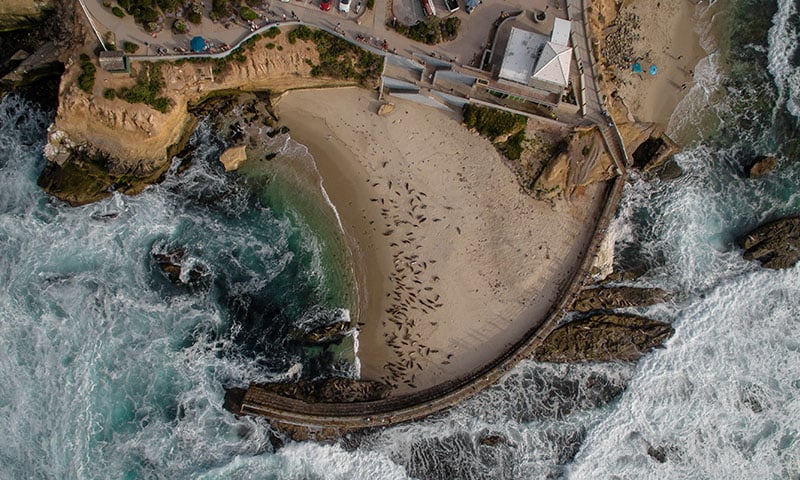 Photo Credit: Matt Howard
The Children's Pool inLa Jolla is a small beach protected by a man made sea wall. This beach is popular for scuba divers because of the reef that's located just off the beach shore. Children's Pool is also a great place to check out some natural marine life. Between the months of February and May, the pool is often closed to allow a safe area for pupping season for harbor seals and sea lions.
Centennial Park Coronado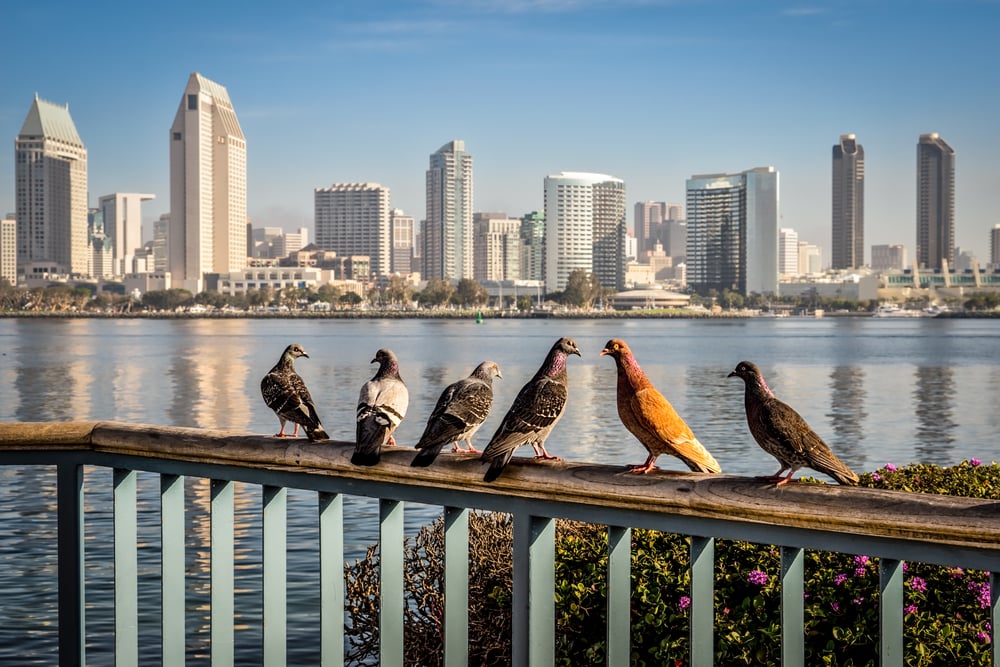 Centennial Park in Coronado is located just off of the ferry landing. This area is popular for picnickers and weddings because of the skyline view of San Diego. Coronado offers a lot of walkable areas, which makes it an awesome place to visit for the day.
Santa Fe Train Depot Downtown San Diego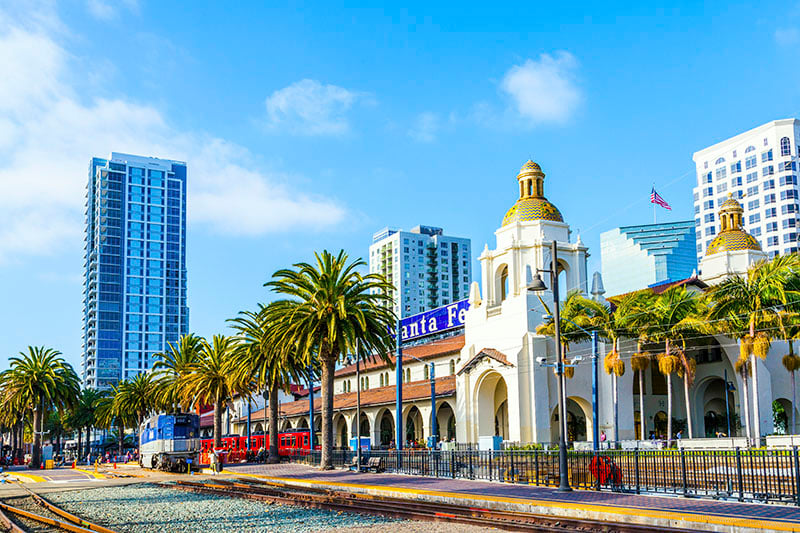 The Santa Fe Train Depot is listed on the national register of historic places. The architectural style of the Depot is mimicked in other buldings around the Downtown area. A portion of the depot wing now houses the Downtown segment of the Museum of Contemporary arts.
Star of India/San Diego Maritime Museum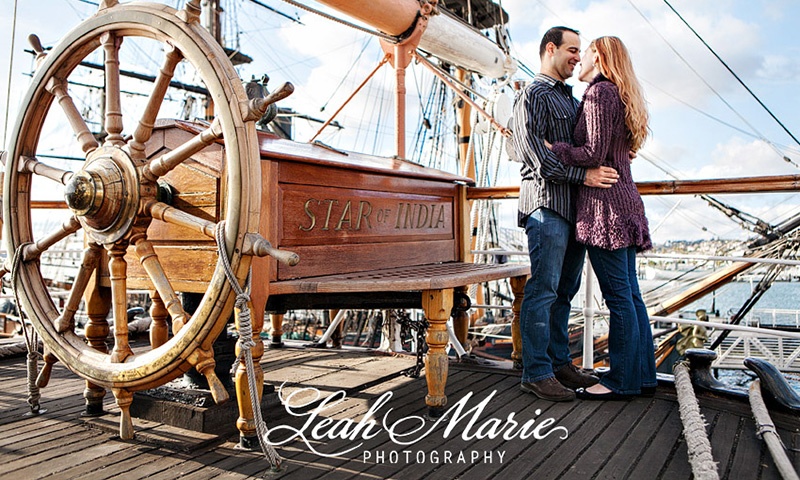 Photo Credit: leahmariephotography
Located near Waterfront Park in Downtown lies one of the largest collections of historic sea vessels in the United States. The museum is often used as a venue for themed events and weddings, and is accessible to the public year round.
WindanSeas Beach La Jolla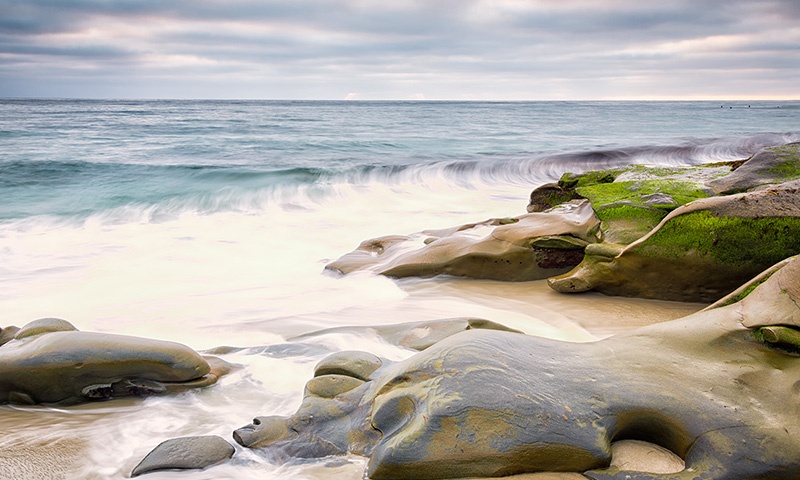 Photo Credit: markshimazuphotography
This rocky beach located off the coast of La Jolla is popular among strong swimmers and surfers, but less for families. The strong surf makes it excellent for those hitting the waves, but could be dangerous for less experienced swimmers. Windansea is often used as a romantic backdrop for weddings or engagement shoots due to the small surf shack right on the beach.
Mission Bay & Belmont Park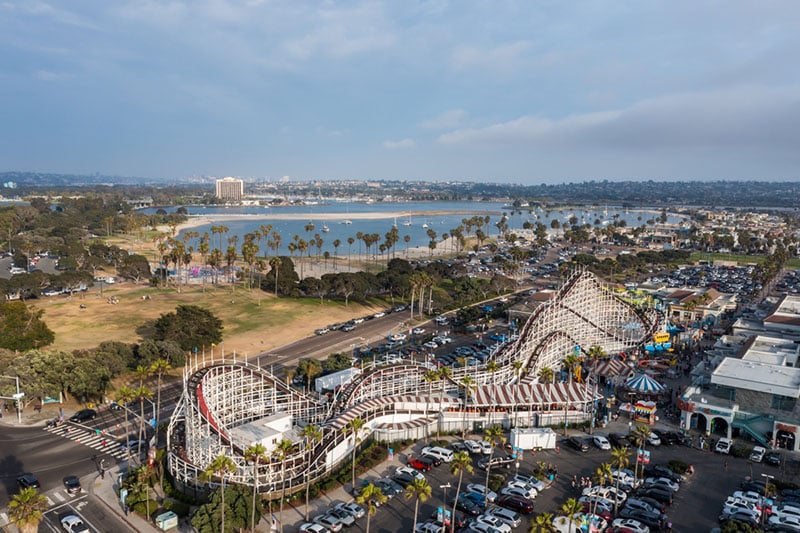 Belmont Park is a historic seaside amusement park located in Mission Bay. The park was originally intended to help sell land in the Mission Bay area, and has continued operation since 1925. The park is now known as Belmont Park, and attracts many people to both the beach and the amuesment park.
San Diego Skyline from Point Loma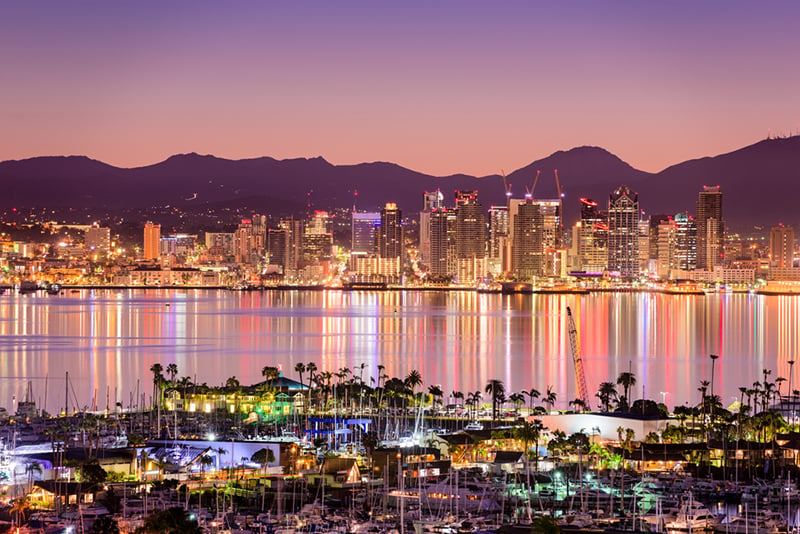 Historically, Point Loma is the area where European settlers first came and set foot in California. The area is incredibly hilly and is home to the Point Loma lighthouse and Cabrillo National Monument. From Point Loma, you can look out to the Pacific Ocean and across the San Diego bay to see incredible skyline views of Downtown.
Marian Bear Park

Photo Credit: Sean Walker
Located south of University City and north of Clairemont lies the 467 foot acre Marian Bear Park. With plenty of walking paths, walking trails, and steep hikes, this park is a great place to go for anyone who wants to get outdoors and take in some natural greenery.
The Mushroom House La Jolla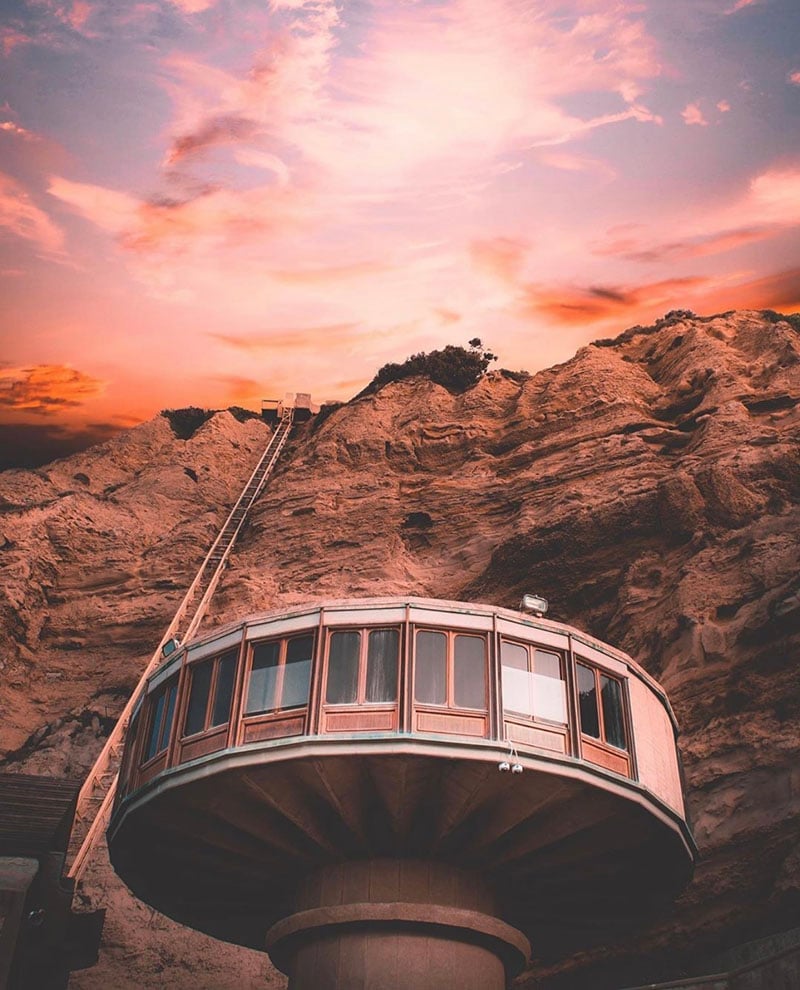 Photo Credit: Julian McHale
Down between La Jolla Shores and Blacks Beach lies the Mushroom House. Serving as a guest house to a larger property, the Mushroom House was built with concrete walls to withstand the waves of the tide only a few feet away.
Geisel Library
A common photo spot for graduates at UC San Diego, the Geisel Library's unique architecture attracts people from all over. The library was named after Audrey and Theodore Seuss Geisel. Theodore Geisel is more commonly known as the well known children's author, Dr. Seuss.
Oceanside Harbor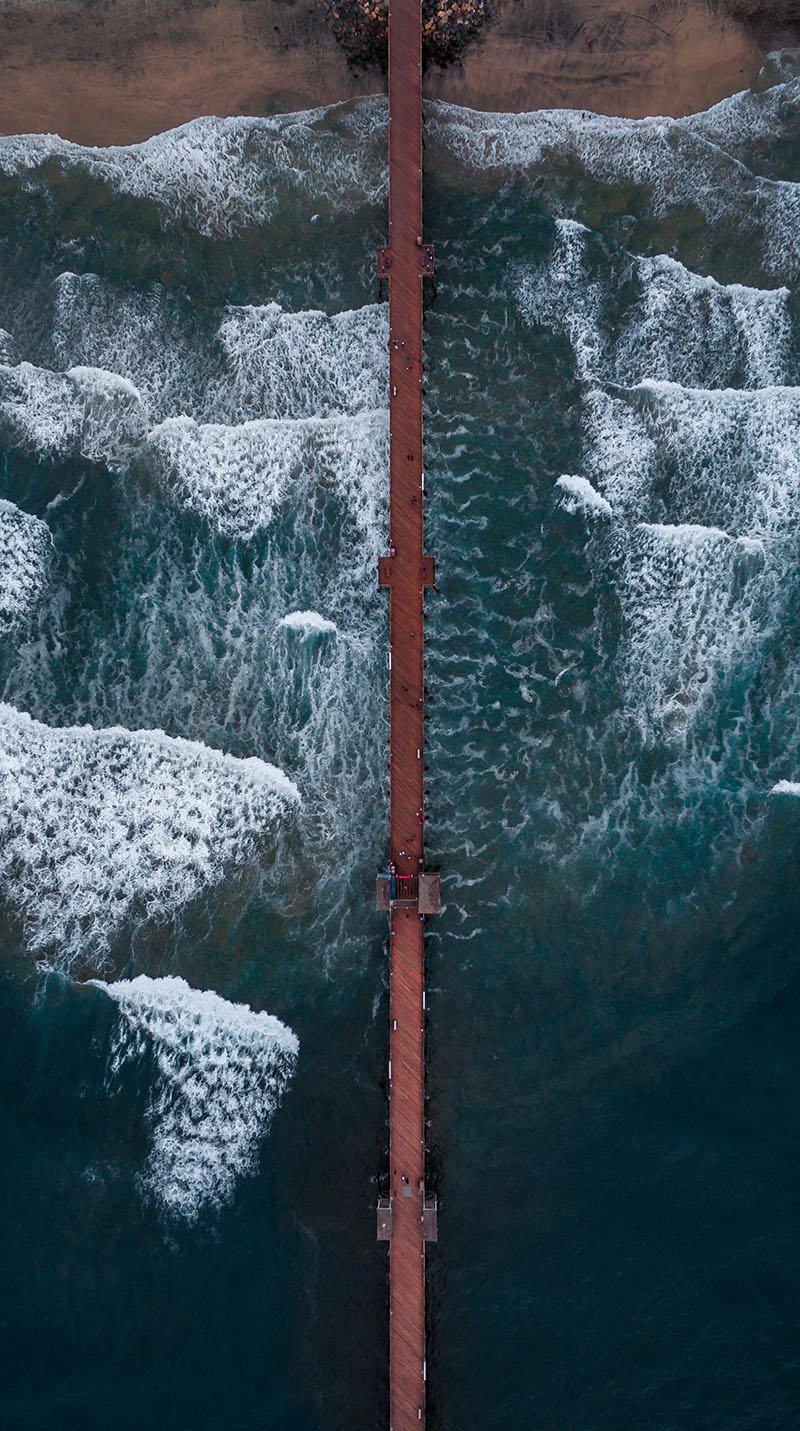 photo credit: Matt Howard
Oceanside Harbor is a gorgeous seaside area with tons of local shopping and eateries. Located just off the beach, the area offers a great view of the sunset near the Oceanside Pier, the longest wooden pier on the west coast.
Border Field State Park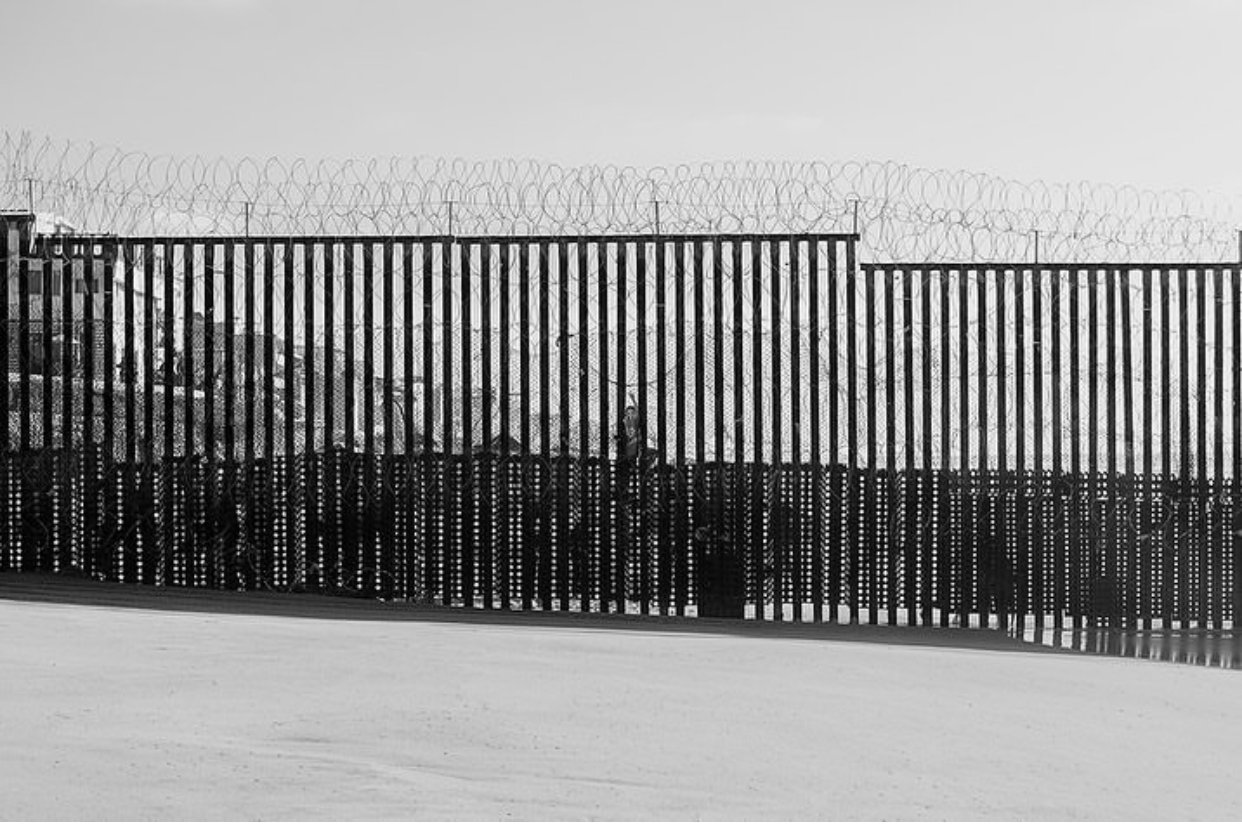 Photo Credit: scottshootsstuff (Instagram) / theedgephotography.co.uk
Border Field State Park is the southermost area of California. Located within Imperial Beach, this park resides just north of the Mexico border. The beach itself extends for a mile and half and offers visitors horse back riding and hiking.
Chicano Park and Barrio Logan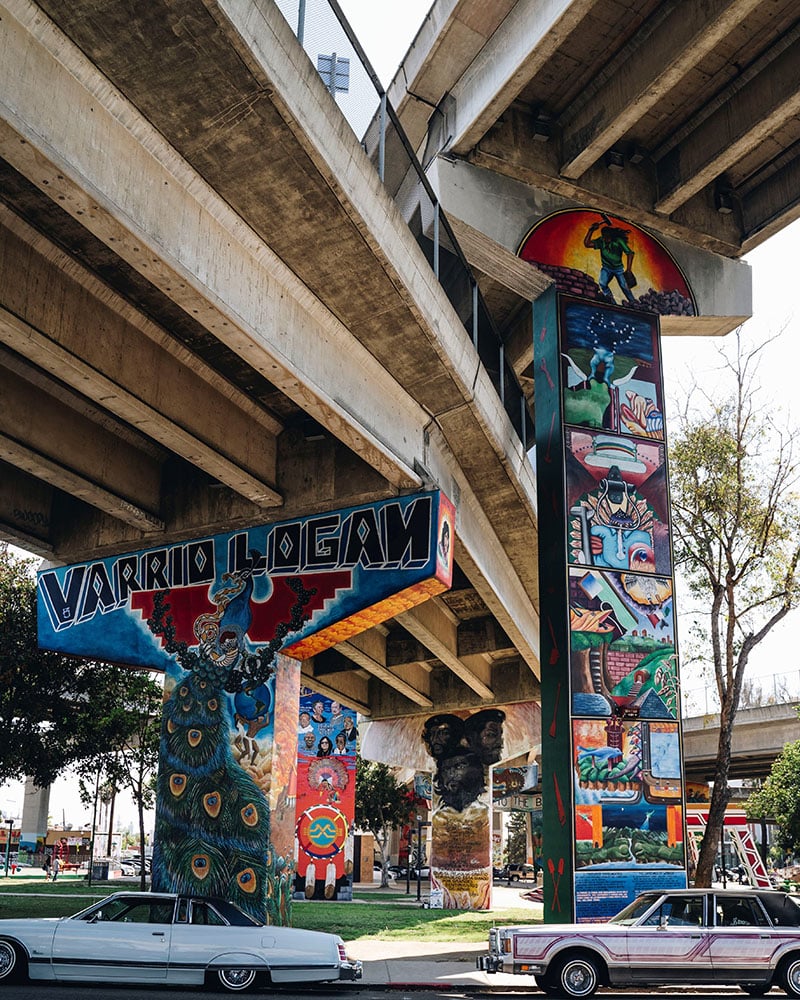 Photo Credit: Diego Lozano
Chicano Park is located in Barrio Logan, located just under the Coronado Bridge. This area is home to a large Mexican-American community, which makes Chicano Park a shining monument to that culture. The park was designated as a National Historic Landmark in 2016.
If you're interested in making San Diego your home, we can help! The agents at Steele San Diego Homes can help you find your San Diego dream home.
Contact us today for more information.