If you've ever thought about or are in the process of moving to San Diego, this is the article for you!
Here are 9 reasons why you'll love living here.
1. Beautiful Weather Year-Round
Let's get one thing out of the way. San Diego is the textbook example of beautiful year-round climate. It's never too hot and never too cold. No wonder 35 million people visit Sunny San Diego each year.
Now here's the thing. If you've lived here long enough, you're going to want a little variety, maybe you long for snow? The good news is Big Bear Lake is only a quick drive away from San Diego – perfect for a winter getaway. This is great for anyone who likes a little diversity.
2. The People Are As Warm As The Weather
Sure. You can't generalize an attitude with such a diverse group of individuals who live and visit here. But it isn't without reason that San Diego has a reputation of having a friendly and laid back culture.
With sparkling oceans, gorgeous beaches, and a plethora of outdoor activities to choose from–it's no wonder San Diego has a reputation of having such war and friendly charm.
It's kinda hard to be a jerk when you live in a paradise year round! 😂
3. Diverse Neighborhoods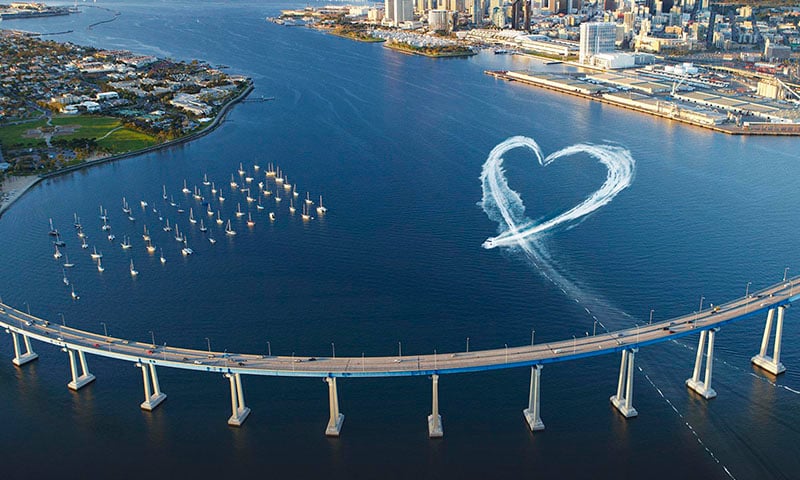 San Diego can be entirely defined by its neighborhoods. Incredibly close together in proximity yet vast in its differentiation. These little villages or towns within the city speak volumes about the range and diversity of the city's residents, businesses, visitors and topography.
Here's a summary of the top 10 neighborhoods in San Diego:
Mission Hills (Historic San Diego)

Hillcrest (Foodies)
4. Traffic is reasonable
Like other major cities, San Diego roads are used heavily during rush hours. However, you're never going to see a major hold up due to some sort of crazy weather like other cities. Since the weather is normally dry, a small amount of rain can cause some congestion on the roads-but this isn't as common as other cities.
On a typical day, most areas of San Diego can be reached in 20 minutes or less using the main freeways, which include I-5, I-805, I-15, and I-8.
Public Transportation is also available via the San Diego Metropolitan Transit System which will get you almost anywhere in the county you need to go in a jiffy.
5. Close Proximity to popular areas
Convenient and near distance to the following areas gives locals a lot more options of things to see and do, and satiates the desire for diversity.
Mexico
Baja california
LA
Orange County
Vegas
San Francisco
San Diego is also a port to frequent cruise departures and a gateway to Hawaii and other Pacific countries
6. There's Plenty to see and do
Being a coastal city, there is a lot to see and do for adventure and fun seekers. Family attractions, parks, beaches and hikes are just the beginning. The sky is the limit in regards to things to see and do here, there is truly something for everyone.
Unless you like skiing. Then you may be out of luck!
Here are some of the best things to see and do in San Diego:
Balboa Park

San Diego Zoo and Safari Park

Torrey Pines State Reserve

Coronado Beach

USS Midway Museum

Cabrillo National Monument

Gaslamp Quarter

Maritime Museum of San Diego

SeaWorld San Diego

Mission Beach and Pacific Beach

Sunset Cliffs

La Jolla Cove and Shores, and much much more.
7. It's Food & Drink Heaven
photo credit: n/a
Indulge your inner foodie. San Diego is home to some of the best restaurants in the world–with almost limitless variety to choose from.
Seafood, Asian, Italian, Authentic Mexican and much, much more! Let's just say you'll never have to wonder what you're having for dinner.
A few of our FAVORITES include:
Searsucker
Herb and Wood
The Crack Shack
Cafe 21
Juniper and Ivy
Mister A's
If craft beer, wine or spirits is more your thing. There is a lot to be experienced here as well.
Farmer's Markets unlike any other
Did you know there are over 6,500 farms in San Diego County? With a year-round growing season and plenty of sunshine, San Diego produces a wealth of farm fresh goods.
You'll find a farmers market in almost every neighborhood throughout the county where you can mingle with the locals and meet the farmers while you nibble on sweet, ripe fruit, listen to live music, stroll through colorful booths and experience San Diego's delicious lifestyle.
At some of the markets, cooks whip up crepes, kettle corn and tamales; vendors sell garlic-stuffed olives, olive oil, cheese and honey, all prepared locally.
At many farmers markets you'll also find local artisans selling everything from handmade soaps, jewelry, and art to textiles, pottery, photography and other crafted treasures.
No matter what time of year or what day of the week you visit San Diego, you'll find incredible markets where the region's farmers will tempt your taste buds and share with you the amazing riches of San Diego's agricultural output.
World-Class Shopping
The San Diego shopping scene suits all tastes and budgets, from the fashionable boutiques of La Jolla to the thriving antique district in Ocean Beach.
Here are a few of the most popular Shopping Areas / venues
San Diego Has Some of the best schools in the U.S.
A lot of the top rated schools in California located in San Diego. This is important for anyone thinking about moving to San Diego with a family or starting one.
A few of the top School Districts in San Diego include:
San Dieguito Union High School District
Poway Unified School District
Coronado Unified School District
Spencer Valley Elementary School District
San Marcos Unified School District
Carlsbad Unified School District
Chula Vista Elementary School District
And Grossmont Union High School District
San Diego is also home to some of the best universities in the county as well.
To Summarize
San Diego is a rich, diverse, and spectacular place to live. Beautiful year-round weather, friendly people, and plenty to see and do makes it a no-brainer for anyone thinking about moving to Sunny San Diego… a little piece of heaven on earth.